Description:
Golf Poniente is only 12km by motorway from the city of Palma and closet to all the major summer resort of Calvia. One of Mallorca's oldest courses, the John Harris course was opened in 1978 and is a well designed course that even the best of players find it hard to beat at times, but it remains a tough but fair course. This 18 hole, par 72 and 6.430m long course is a mixture of flat and raised holes. Situated between pine trees, its seven lakes, numerous bukers, the excellent conditions of the fairways, together with the variety of the greens all contribute to the magnificent style and character of the course. The views from the 8th and 16th holes are exhilarating and make you appreciate the beauty of this course, and it is hard to believe that you are only minutes away from the hustle and bustle of the thriving resort of Magalluf. The 10th hole is probably one of the best golf holes in Mallorca. Par 4, Stroke index 1, it does not appear that hard, but out of bounds on the right and a lot of water to negotiate make it a great hole to achieve your par on. The course has an spacious driving range, two short play greens with a bunker and a wide putting green of 2.000 square metres.
More Info ...
Details
Rates
Course Map
Location
Add to Shopping Cart
Details
18
n/a
6430mts vc74.40 vs 128 par 72
6140mts vc72.80 vs 127 par71
n/a
n/a
n/a
n/a
Gents < 28 | Ladies < 36
Facilities
n/a
Mr John Harris
D Jose Jimenez Sanchez
n/a
n/a
n/a
Information
n/a
n/a
Yes
Yes
Yes
n/a
n/a
n/a
n/a
n/a
Yes
n/a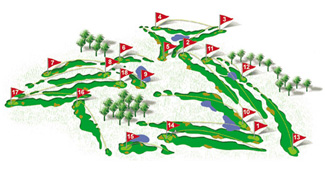 Directions:
Located in the tourist municipality of Calvià, 12km from Palma.
Address: T Club & Country Club, Ctra. Cala Figuera, 07181 Calvià, Mallorca
GPS:
Lat:
Lon:
Directions from:
Ok