Description:
Santa Maria Golf & Country Club is located east of Marbella near Hotel Don Carlos at the Costa del Sol in Spain. Opened in 1991 Santa María Golf previously was a 9-hole golf course designed by Antonio García Garrido. After finishing the second nine, designed by it's own technical staff, 5 years later in 1996 the golf course is now sited in two valleys in the hills in a surrounding with beautiful views. The golf course is not too difficult to play with its wide fairways particularly on the back nine. Besides golf, the Santa María Resort offers other facilities like tennis courts, swimming pools and the Santa María Bowls Club, an official bowls club.
More Info ...
Details
Rates
Course Map
Location
Add to Shopping Cart
Details
18
72
6015m
5766m
4942m
n/a
n/a
n/a
Gents < 28 | Ladies < 36
Facilities
n/a
Antonio García Garrido
n/a
Arthur Colin Mosely
Dean Symonds
n/a
Information
n/a
n/a
Yes
Yes
Yes
n/a
n/a
Electric / Manual
Yes.
With Pro resident
No
n/a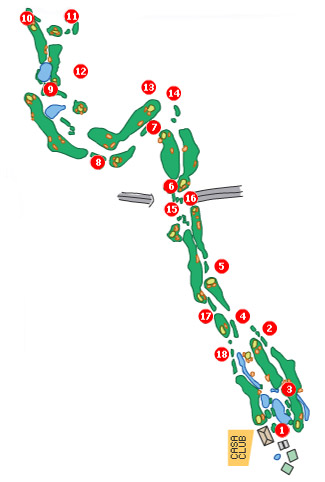 Directions:
10km from Marbella & 40 mins from Malaga Airport
Address: Santa Maria Golf & Country Club, N-340 km. Urb. Elviria, 192 - 29600 Marbella, Malaga
GPS:
Lat:
Lon:
Directions from:
Ok