Details
Facilities
Rates & Booking
Hotel Packages
Add to Shopping Cart
Tailormade
Description:
Boasting panoramic views of Três Irmãos Beach, this hotel is just a short walk from Alvor's centre and impresses with its family-friendly facilities as well as friendly service. Offering good value for money, Pestana Delfim is just 3 minutes from the beach. Spend time in the salted outdoor pool, complete with pool bar, or opt for a dip in the heated indoor pool. At the health club you can work out in the gym, visit the sauna or treat yourself to a professional massage. Families can play tennis together or have fun in the games room. There you can find everything, from table tennis to billiards and snooker. In addition, Pestana Delfim offers Portuguese or painting classes upon request. Every evening, guests can enjoy live music at the Tucano Bar. Watch the sunset on the terrace while having dinner. Tucano Bistro serves à la carte dishes throughout the day, with guests having the option to opt for half board. With a private balcony and modern décor, each of the guest rooms is a welcome retreat at the end of a long and exciting day.
Features:
Golf Courses Quality
Excellent Holiday Courses
Groups Friendly
Larger Groups
Transfers
Special Rates Available
All Inclusive
All inclusive Included.
Facilities:
Rooms/Facilities for Disabled Guests
Services:
Meeting/Banquet Facilities
Babysitting/Child Services
Activities:
Golf Course (within 3 km)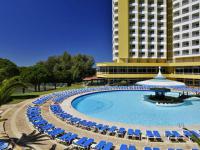 Request the Best Deal!
Submit your shopping cart and we'll come back to you with the best available price.
The prices and room types presented below are just for your reference and do not consider any ongoing hotel special offers special offers, hotel special offers group discounts nor hotel special offers early booking deals. Those will only be validated on our reply to your shopping cart submission.
Rates:
aaaaa