Details
Facilities
Rates & Booking
Hotel Packages
Add to Shopping Cart
Tailormade
Description:
Penina Golf Hotel is set within stunning 360-acre gardens, this resort enjoys an ideal location in the south-west of the Algarve. It is 5 km from Portimão and the city of Lagos. Le Méridien Penina Golf & Resort offers English architecture, Portuguese hospitality and a European lifestyle. The high standards of service and the numerous facilities make Le Méridien Penina the ideal resort for families, golfers or anyone who wishes to relax. The new and wider golf driving range now has 12 covered practice bays. The driving range can cater for up to 70 players.
Facilities:
All Public and Private spaces non-smoking
Services:
Meeting/Banquet Facilities
Babysitting/Child Services
Activities:
Golf Course (within 3 km)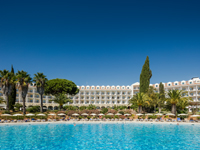 Penina Hotel and Golf Resort is a 5 star Golf Resort with a 18 holes Championship Golf Course, two 9 holes Resort golf course and a wide golf driving range with 12 covered practice bays. This Resort ideal for all golf purposes. Amateurs or Professionals Golfers ,Golf schools etc. . Packages for this resort contemplate several nights and all packages include an early booking special offer.
Rates:
Penina Hotel Golf & Resort

Up to 15% Hotel Discount for bookings confirm 120 days prior to arrival
Up to 10% Hotel Discount for bookings confirm 60 days prior to arrival
Offer is valid for minimum 3 nights of stays and not combinable with other offers
Up to 20% Discount Stays until Oct 2022

1 free in each 8

- 3 Nights stay includes 3 Green Fees: 2 at Sir Henry Cotton Championship Golf Course + 1 at Resort or Academy Golf Course.
-5 Nights stay includes 5 Green Fees: 3 on Sir Henry Cotton Championship Golf Course + 2 on Resort or Academy Golf Course.
-7 Nights stay includes 7 Green Fees: 4 at Sir Henry Cotton Championship Golf Course + 3 at Resort or Academy Golf Course
For stays less than 3 nights, there is no golf included

Hotel from:
130€

Packages from:
260€
Tailormade
Recommended Packages
5 nights BB & Unlimited Golf Rounds
7 Nights BB & Unlimited Golf Rounds
3 Nights BB & Unlimited Golf Rounds
21 Nights BB & 12 Golf Rounds
Long Stay
If none of the suggested packages meet your criteria, please use our friendly Tailor Made service to personalise your choice
Tailormade