Details
Facilities
Rates & Booking
Hotel Packages
Add to Shopping Cart
Tailormade
Description:
Next to a nature reserve, boasting views beyond the Atlantic´s infinite blue and within close proximity to one of the most luxuriously green golf courses in the south, VidaMar Resort Hotel Algarve offers a range of activities tailored to your taste so you can bring to life the holiday you envisaged. VIDA (LIFE) and MAR (SEA) will provide you with amazing, varied and memorable moments. VidaMar Resort Algarve is an oasis of themed pools and lush green palm trees among which you can feast on delicious meals from all over the world complemented by the efficient service of a team of professionals as welcoming and warm as the sun that bathes Praia dos Salgados. Life is all about unforgettable experiences with your partner, family or friends so where best to enjoy them than in a seaside hotel where the guest is king?
Facilities:
Salgados extensive sandy beach (+/- 6 Km long); • Direct access to Salgados beach from the pools' area through a purpose-built pathway over the dunes (+/- 150 m); • 1 Outdoor pool (60 meters long
oval shape); • 1 Children's splash pool; • 1 Chill out outdoor pool with underwater lounges and benches; • Beach concession & beach snack-bar (+/- 500 m); • 4 Restaurants (Ocean Buffet
"Sabor a Mar" local seafood); • 4 Bars (2 Lobby bars: "Nespresso Bar" & "Gin Bar"
one pool Snack-Bar: "Sunset Bar"); • SPA DEL MAR: pool with whirlpool features
3 treatment and massage rooms and gymnasium; • Aquatica Kids World (from 3 to 11 years old; seasonal opening); • Seasonal entertainment programme for adults & children; • Extensive palm gardens and recreation areas;
Services:
The SPA del Mar provides you with treatments and relaxing programs conceived with your well-being in mind. The SPA features 3 rooms for treatments
indoor pool with water circuit
steam bath and Jacuzzi. The Mar relaxation programme is located in an area of the palms gardens. Classes include Yoga
Tai Shi and Meditation. AROUND THE HOTEL / RESORT • Beach water sports such as Sailing & Windsurf
water skiing & parasailing • Shopping Centre (± 15 min. drive); • Horseback riding; • Sports fishing from Albufeira marina (± 10 min. drive) or Portimão marina (± 30 min. drive); • Boat trips & Catamaran from Albufeira marina (± 10 min. drive);
Activities:
Outdoor fitness venue for Body & Mind exercise classes; • Wireless broadband internet connection; • Underground and outdoor car parking.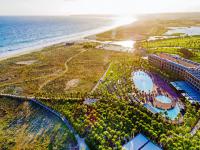 The Aquatica Kids World is designed around children and their specific needs - from 3 to 11-year-olds, the emphasis is on fun in a safe, secure environment, while parents can relax and enjoy over 30.000m2 of sunbathing facilities and unique pools, directly on the sand dunes and with direct access to the beach, or enjoy our choice of themed restaurants and signature drinks and light snacks in the themed bars. The VIDAMAR dining experience is complete with the new DINE AROUND concept that allows guests to choose from a selection of HB options in 4 different restaurants. Indulge and pamper yourself at our exclusive SPA del Mar and experience the delights of time spent away from the everyday stresses of life, here it's time to slow down and enjoy your holiday. Doing nothing could be a popular option, but if you get 'tired' of that, there's the Spa, the step away golfing, romantic dusk strolls around the Lagoon nature reserve or on the beautiful sandy beach.
Rates:
Vidamar Resort Hotel Algarve

| | |
| --- | --- |
| | Nov 2019-May 2020 & Oct 2020: exclusive 3-5-7 nights golf package rates by the hotel (reduced room rates. no other offer can be applied) June-Sep 2020: hotel contract + golf separate rates (all offers can be applied according to contract) |

Hotel from:
368€

Packages from:
625€
Tailormade
Recommended Packages
5 Nights HB & 3 Golf Rounds
7 Nights HB & 4 Golf Rounds
If none of the suggested packages meet your criteria, please use our friendly Tailor Made service to personalise your choice
Tailormade