Details
Facilities
Rates & Booking
Hotel Packages
Add to Shopping Cart
Tailormade
Description:
Hotel La Cala is one of the top hotels in Spain. It commands a central position between the golf courses. Built in a traditional Andalusian style and with 107 rooms, it has a choice of six different room categories, all of which have superb views of the golf courses. The choices range from standard twin rooms with balconies and terraces to superior rooms, deluxe rooms and junior suites.
Features:
Golf Courses Quality
Good Holiday Golf Courses
Packages Value
Great Package Value
Groups Friendly
Special Offers for Groups
Facilities:
Rooms/Facilities for Disabled Guests
Restaurant With Dining Menu
Services:
Meeting/Banquet Facilities
Activities:
Golf Course (within 2 miles)
Outdoor Swimming Pool (all year)
Indoor Swimming Pool (all year)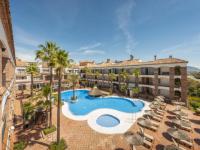 Request the Best Deal!
Submit your shopping cart and we'll come back to you with the best available price.
The prices and room types presented below are just for your reference and do not consider any ongoing hotel special offers special offers, hotel special offers group discounts nor hotel special offers early booking deals. Those will only be validated on our reply to your shopping cart submission.
Rates:
aaaaa