Details
Facilities
Rates & Booking
Hotel Packages
Add to Shopping Cart
Tailormade
Description:
Vila Galé Ampalius Vilamoura, a 4-star hotel is centrally situated in Vilamoura. It is a few metres away from Praia da Marina and Marina de Vilamoura along the Atlantic Ocean. Vila Galé Ampalius, provides fully-furnished rooms and suites that include balconies with panoramic pool or sea views. Facilities include an indoor and outdoor swimming pool, a tennis court, spa and wellness centre. Children can enjoy animation shows while parents explore the region with a rental car or bike. The Ampalius is close to excellent golf courses, the Casino of Vilamoura, Falésia Beach and the Roman Ruins Cerro da Vila.
Facilities:
Rooms/Facilities for Disabled Guests
All Public and Private spaces non-smoking
Services:
Meeting/Banquet Facilities
Activities:
Golf Course (within 3 km)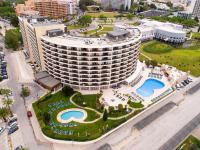 Vila Galé Ampalius Vilamoura benefits from a great location near the beach and features great golf and accommodation deals with packages and great deals such as Group specials and Early Booking Discounts. Featured golf courses are Old Course, Pinhal, Millennium and Laguna, all in Vilamoura.
Rates:
Vila Galé Ampalius Vilamoura

10% Hotel Discount for groups of 8 - Stays in Nov & 1 Mar - 15 Apr & 15 -31 Oct
20% Hotel Discount for groups of 4 - Stays in Dec to Feb

* Enviar todas as reservas com o pedido de maquina de café. (Maq Café não tem suplemento mas só será colocado no quarto em caso de o cliente pedir) * Junior Suites so tem cama dupla (2) nao da para 4 single * Alguns quartos vista mar superior, e todos Jr e Sr. Suites tem kitchenette. Caso o cliente tiver interesse enviar a reserva com o pedido de quarto com kitchenette

Free golf transfers to selected Golf Courses

Hotel from:
127€

Packages from:
387€
Tailormade
Recommended Packages
7 Nights BB & 5 Golf Rounds
3 Nights BB & 3 Golf Rounds
4 Nights BB & 2 Golf Rounds
5 Nights BB & 3 Golf Rounds
2 Nights BB & 1 Golf Round
If none of the suggested packages meet your criteria, please use our friendly Tailor Made service to personalise your choice
Tailormade