Description:
Dom Pedro Millennium Golf Course is a Par 72 golf course located in Vilamoura . Open since 2000 as become the most popular among all the Vilamoura golf courses. It is quite an open course, which makes it a favorite among lady golfers. Nevertheless, the front 9 has 5 holes set between pine trees, making it a more aesthetically pleasing experience, but on the other hand also more challenging, with narrower fairways. On this first round lies what is also Millennium's golf course signature hole, the 5th, a Par 4, stroke 1. The back 9 is easier all around, shorter, with a total change of scenery into open spaces, allowing mainstream golfers to hit their drivers without any worries. This is not at all a hilly golf course and so if you enjoy a walk you can do without the buggy. Overall, Millennium is regarded as a fairly forgiving golf course, some would say a fair course, and one to build a good score on. If you're on a golfing trip it is ideal to start your game here in the week to iron out all those faults before taking on tougher golf courses such as Pinhal or Laguna. After golf at Millennium you have a wide choice when it comes to leisure time, this is Vilamoura after all and it was purposely built for holidays and family fun.
More Info ...
Details
Rates
Course Map
Location
Add to Shopping Cart
Details
18
72
6176 m / 6794 yd
5820 m / 6402 yd
4767 m / 5244 yd
Bermuda Tifton 419
Bentgrass Var Penn A4
Bermuda Tifton 419/Overseeded with Lollium Perenne
Gents < 28 | Ladies < 36
Facilities
n/a
Martin Hawtree
Dom Pedro Golf, S.A.
Romeu Gonçalves
Abílio Coelho
Paulo Tomé
Information
Everyday from 7:45am to 8:00pm
Everyday from 7:45am to 8:00pm
Yes
Yes
Yes
With Restaurant and Snack bar
n/a
Manual and Electric
Titleist
Resident professionals
Yes
Up to 17 years old
Tecnical
Minor slopes
3/ 4 holes slightly winding
With Umbrella Pines
Only on holes 1,2, and 8,9
Reasonable flat course
On 5 holes
Yes
5th
Can be a good scoring course
Added Value:
1 Free in 8 and Up to 18% discount.
Minimum 3 rounds (18 holes rates only).

At Vilamoura golf courses.
Free Golf Shuttle from a selection of hotels.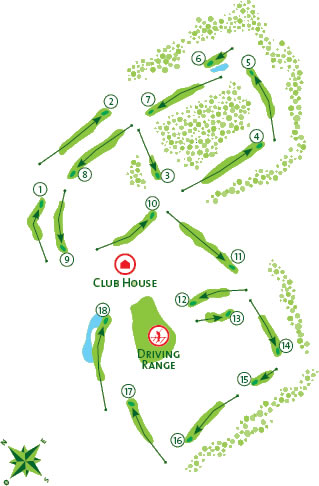 Directions:
If you are coming from Lisbon or Porto, take the A2 motorway in the direction of the Algarve and when you reach the A22 Via do Infante motorway head in the direction of Faro. Continue until the exit to Vilamoura, then continue straight on and at the traffic lights turn left on to the EN 125 in the direction of Faro. After a few kilometres, the entrance to Vilamoura is on your right.
Address:
GPS:
Lat:
Lon:
Directions from:
Ok