Description:
The Vilamoura Laguna golf course will reopen on April 1st with 9 holes in ''soft opening'' mode until May 31st. This is a temporary opening, with playing conditions limited to the ongoing renovations. The 9-hole golf course will be available for 9-hole green fee and/or 2 x 9-hole green fee bookings and will be played on holes 1, 2, 3, 6, 7, 8, 9, 10, and 18. Tee 1 will have start times ranging from 08:06 to 10:03 and 12:36 to 14:33. We'd also like to point out that the driving range will only have half of the putting green available for practice. The key words for the new golf experience at Dom Pedro Laguna Golf Course are consistency and sustainability. The new irrigation system will allow specific areas of the golf course to be identified and irrigated, preventing dry spots in the summer and flooded areas in the winter. The introduction of new grass types will make it easier to distinguish between different game areas, improve the quality of the fairways, and bring uniformity to all of the holes. Dom Pedro Laguna Golf Course will then reopen on September 1st, with all 18 holes open and in perfect condition for all golfers to enjoy one of Vilamoura's most unique golf courses once more.
More Info ...
Details
Rates
Course Map
Location
Add to Shopping Cart
Details
18
72
6121 m / 6733 yd
5775 m / 6352 yd
4900 m / 5390 yd
Bermuda Tifton 328
Bent Grass|Penn Cross
Bermuda Tifton 328
Gents < 28 | Ladies < 36
Facilities
n/a
Joseph Lee
Dom Pedro Golf, S.A.
Eduardo Sousa
Abílio Coelho
Virgolino Santos
Information
Everyday from 7:45am to 8:00pm
Everyday from 7:45am to 8:00pm
Yes
Yes
Yes
With Restaurant and Snack bar
Without GPS
Manual and Electric
Callaway
Available by local Professionals
Yes
Up to 17 years old
Tecnical
1st nine holes
Minor amount of Par 4's
Very, wind conditions play a big part
If Essential
On both 9's
Probably not near enough to the coastline to be, but back 9 plays is links style
Front 9
9th
Good test, with well placed binkers and water
Added Value:
1 Free in 8 and Up to 18% discount.
Minimum 3 rounds (18 holes rates only).

At D. Pedro Vilamoura golf courses.
Free Golf Shuttle from a selection of hotels.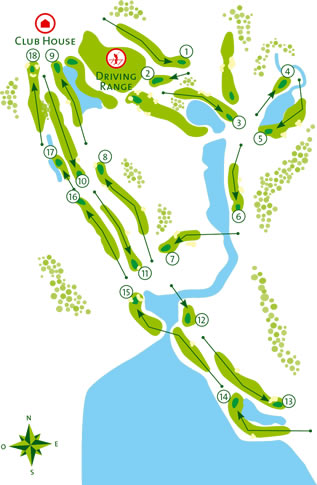 Directions:
If you are coming from Lisbon or Porto, take the A2 motorway in the direction of the Algarve and when you reach the A22 Via do Infante motorway head in the direction of Faro. Continue until the exit to Vilamoura, then continue straight on and at the traffic lights turn left on to the EN 125 in the direction of Faro. After a few kilometres, the entrance to Vilamoura is on your right.
Address:
GPS:
Lat:
Lon:
Directions from:
Ok