Description:
Vila Sol Golf Course is a truly,Championship golf course, well established in the Algarve. 27 Holes , Prime and Challenge been the original 18 holes , where the the Portuguese Open was played in 1992 and 1993. Prestige are the latest 9 holes that are completing this wonderful full 27 holes golf course, witch allows 3 different Combinations Prime/Challenge, Challenge/Prestige and Prestige/Prime. On any of this combinations be prepared for a real test of your abilities and capacities about playing golf . It will definitely not be a walk in the park . Narrow fairways, doglegs
More Info ...
Details
Rates
Course Map
Location
Add to Shopping Cart
Details
27
72
8880 m / 10357 yd
3241 m / 9768 yd
7989 m / 8791 yd
Bermuda Tifton 419
Bent Grass
Bermuda Tifton 419
Gents < 27 | Ladies < 35
Facilities
n/a
Donald Steel
Pinheiro Mar, SA
n/a
Richard Hudson
Miguel Grosso
Information
Everyday from 7:00am to 8:00pm
Everyday from 7:45am to 8:00pm
Yes
Yes
Yes
With Restaurant and Snack bar
n/a
Manual and Electric
Standard
Resident professionals
Yes
Up to 16 years old
Tecnical
Mainly sweeping fairways
Good selection on the original 18
Heavily with Umbrella Pines
Only if essential
Few on all groups of 9 holes
Totally
7th on the original front 9
Very good course, always in demand.
110€
121€
122€
88€
122€
131€
122€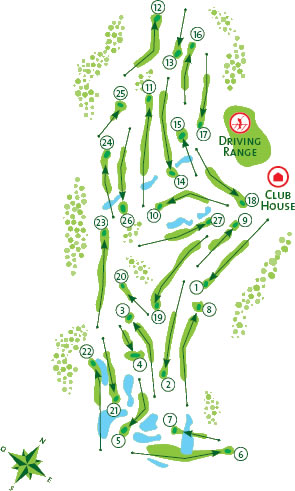 Directions:
Head in drection of the A22/ EN125.|After aproximately 3km turn right, in direction of 'Lisbon/Portimão/Loulé'|After 4km turn right in direction of 'Almancil'|Continue on the EN125 for 8,5km until you reach a crossroad with traffic lights, after a BP station.|Turn left towards 'Quarteira/Vilamoura' until you reach Vila Sol, approximately 1,5km after Aquashow.
Address:
GPS:
Lat:
Lon:
Directions from:
Ok