Description:
Vale do Milho Golf Course is a beautiful 9 hole par-3 course, close to the village of Carvoeiro, in the Algarve.
With its small contoured greens, lakes and sand traps it provides a real challenge whatever standard of golf you play. As well as being an ideal course for family golf and beginners, scratch and low handicap players use the course to sharpen up their iron play and short game. If you are a beginner there is no place better to learn to play golf than in the relaxed atmosphere of Vale do Milho Golf Club. Casual dressing allowed, and a panomaric club house .
More Info ...
Details
Rates
Course Map
Location
Add to Shopping Cart
Details
9
27
n/a
926 m / 1019 yd
919 m / 1011 yd
Bermuda / Paspalum / Rye Grass
Penn Eagle
Bermuda / Paspalum / Rye Grass
Gents < n/a | Ladies < n/a
Facilities
n/a
Dave Thomas
Gericonstroi, S.A.
Mark Stilwell
Jos Den Hartog
Fernando Luz
Information
Everyday from 8:00am to 8:00pm
Everyday from 8:00am to 8:00pm
No
Yes
Yes
With Restaurant and Snack bar
No
Manual
Half Set
Resident professionals
Yes
Up to 18 years old
Tecnical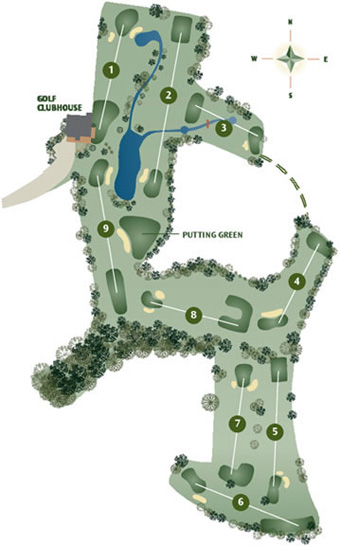 Directions:
Follow EN 125 and take the EN 124-1 to Carvoeiro. Then continue to Algar Seco until you find the sign marking the course.
Address:
GPS:
Lat:
Lon:
Directions from:
Ok