Description:
Son Quint Arabella Golf Mallorca is the third golf course of Arabella Golf & Spa Resort, Mallorca, which together with the Son Vida Arabella Golf Mallorca and Son Muntaner Arabella Golf Mallorca completes the groups' golf collection on the island. Intense nature as far as the eye can see a golf course for beginners and experienced players alike. The architect of the Son Quint project, Ramón Espinosa, designed 18 spectacular sporting and varied holes which cover over 6.200 meters of magnificent Majorcan countryside. Due to its' location, Son Quint Arabella Golf Mallorca continually offers fantastic views over the bay and city of Palma.
More Info ...
Details
Rates
Course Map
Location
Add to Shopping Cart
Details
18
72
6205m
5929m
5119m
n/a
5490m
n/a
Gents < 36 | Ladies < 36
Facilities
n/a
Ramón Espinosa & Kurt Rossknecht
n/a
Bernat Llobera
Sebastian Ruiz & Toni Planells
Francisco Gavira
Information
n/a
n/a
Yes
No
No
n/a
n/a
n/a
n/a
n/a
Yes
n/a
Added Value: 1 free player in 8. 1 Free Buggy in 4.
1 free in 8 any rentals troleys, clubs etc
Prices available on request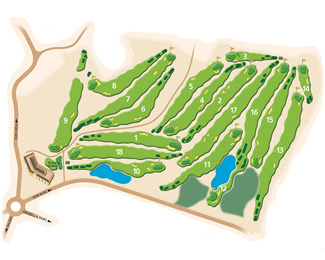 Directions:
Address: Golf Son Quint-Arabella Golf Mallorca, Urbanización Son Vida, E-07013 Palma de Mallorca - Balearic Islands
GPS:
Lat:
Lon:
Directions from:
Ok