Description:
The Sherry Golf course was designed in 2004 by Stirling & Martin. This golf course is an 18 hole Par 72 and challenging for both amateurs and professionals. Since its opening is hosting several tournaments and competitions that prove the quality of the golf course. Sherry Golf is within the new concepts of American golf course design: funny but safe in the game. With undulations and well placed hazards, without making it too hilly, in order to ensure a pleasant walk. Wide fairways and ample greens, grant to Sherry Golf the category of a luxury golf course.
More Info ...
Details
Rates
Course Map
Location
Add to Shopping Cart
Details
18
72
6600m
6155m
4867m
n/a
n/a
n/a
Gents < 36 | Ladies < 36
Facilities
n/a
GLOBAL GOLF Co.
n/a
Emilio Lustau Ortíz de Latierro
Don Ross
Jose Manuel Richarte
Information
n/a
n/a
No
No
No
n/a
n/a
n/a
n/a
n/a
No
n/a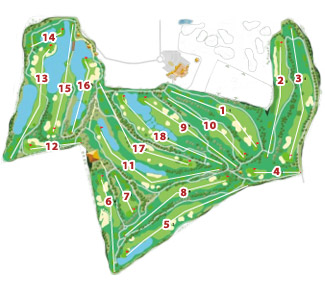 Directions:
Address: Calle Suiza, s/n Autovia A-4, Km, 642, 11408 Jerez de la Frontera, España
GPS:
Lat:
Lon:
Directions from:
Ok