Description:
Clube de Golf do Santo da Serra - Above the bay of Machico, in Madeira Island, where the first Portuguese sailors disembarked. Here, golf and nature live in perfect harmony.Be it competition or leisure, the passions of those who play golf at Santo da Serra club are always satisfied. The Machico and Desertas Courses are those usually used for the Madeira Island Open whilst the Serras Course, mildly flat, maintains the same level of play. With four optional tees at each hole, the player is offered various levels of play enabling straightforward, relaxing rounds as well as more challenging ones. Golfing stars, many of whom are Ryder Cup players, praise the excellent quality of fairways and greens. The semi-roughs and roughs are proof of the meticulous care given to the golf courses conditions. A true botanical garden, the course is adorned with four beautiful lakes surrounded by trees offering shade from the shimmering Atlantic sunshine.
More Info ...
Details
Rates
Course Map
Location
Add to Shopping Cart
Details
27
72 - 3 x 36
9003 m / 9903 yd
8354 m / 9189 yd
7477 m / 8225 yd
Penn Links
Penn Cross
Penn Links
Gents < n/a | Ladies < n/a
Facilities
n/a
Robert Trent Jones Sr.
Clube de Golf do Santo da Serra
Ricardo Abreu
Luke Gough
Paul Evens - STM
Information
Everyday from 7:00am to 7:00pm
Everyday from 7:00am to 7:00pm
Yes
Yes
No
With Restaurant and Snack bar
Without GPS
Manual
Callaway / Dunlop
Resident professionals
Yes
Up to 16 years old
Tecnical
Added Value: Groups 6+ included 1 trolley + 2 driving range tokens p/person p/ day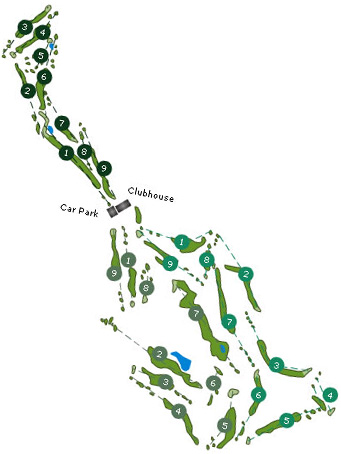 Directions:
Clube de Golf Santo da Serra is situated in one of the most beautiful places created by Nature at aproxm. 30 min by car from Funchal harbour. At 5 minutes by car from the modern high-way, that links in 15 minutes FUNCHAL city to the Airport, and to MACHICO city. To get there, from FUNCHAL, you just take the high-way in direction to the Airport, and just before follow the signs to SANTO da SERRA.
Address:
GPS:
Lat:
Lon:
Directions from:
Ok