Description:
Golf St Antonio, ex Parque da Floresta use to takes its name due its location in the beautiful rolling countryside of the Western Algarve.The new owners decided to give the golf course a new name . The course is extremely hilly therefore a buggy is recommended. It is not too long and you will find good greens which are very generous. The start of the course is with a good Par 4. Parque da Floresta would suit players of all handicaps and is a fairly friendly course for ladies enabling them to enjoy a shorter distance with 659m between the red and yellow tees. A nice golf course where the varying holes run along valleys, past eucalyptus, covered ravines and set amongst olive, palm and pine trees. You will find amazing views said to be one of Europe's most picturesque.
More Info ...
Details
Rates
Course Map
Location
Add to Shopping Cart
Details
18
71
5712 m / 6283 yd
5286 m / 5815 yd
4619 m / 5081 yd
Bermuda
Bent Grass
Bermuda
Gents < 28 | Ladies < 36
Facilities
n/a
Pepe Gonzalez
The Vigia Group
Alan Hodson
Alan Bateman,Ben Frost
Vitor Pinheiro,Nelson Candeias
Information
Everyday from 7:45am to 8:00pm
Everyday from 7:45am to 8:00pm
Yes
Yes
Yes
With Restaurant and Snack bar
n/a
Manual and Electric
Callaway|Wilson ProStaff
Resident professionals
No
Up to 16 years old
Tecnical
Severe slopes on and across most fairways, rarely a flat lie
Several holes
With Pines
Essential
Defined and can be seen
Mixture of Heath and Parkland
11th
A demanding course for all handicaps, fairly priced
Added Value: For groups 12-19 (5% discount)
For groups 20+ (10% discount)
plus 1 player free for each 20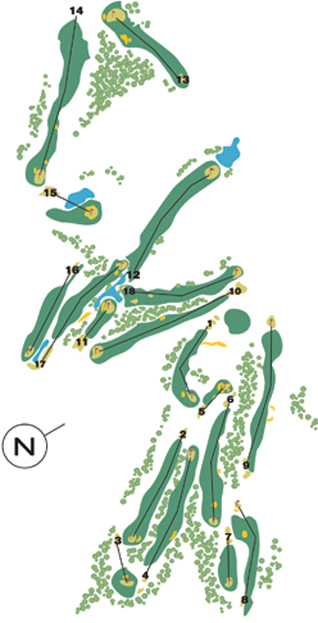 Directions:
Via Infante (A22) - Drive west and take the Sagres Exit-1. After leaving the motorway the second roundabout joins with the Road EN 125. Bear to the right and follow the traffic towards Sagres. Keep going and in time you pass the village of Budens on the right. At the next traffic lights on the right hand side is the entrance to the course.
Address:
GPS:
Lat:
Lon:
Directions from:
Ok