Description:
Santa Clara Golf opened in July 2001. This golf course is located only a couple of kilometres east of Marbella at the Costa del Sol in Spain.Enrique Canales designed this course in ''Park-land'' style and, although Santa Clara Golf is located in an undulated area, it is relatively forgiving. Probably the most difficult hole is the long 8th (par 5 - 506 metres). The tee box is positioned at the highest level of the course. The narrow fairway of this hole curves all the way down to sea level.Santa Clara Golf is designed accordance the latest USGA specifications of a Park-land course. Besides the huge river which swirls across the whole golf course there are plenty of lakes (the small lake around the 18th green provides a stunning setting, see the picture above) and spectacular elevated greens.
More Info ...
Details
Rates
Course Map
Location
Add to Shopping Cart
Details
18
71
6022
5563
4929
n/a
n/a
n/a
Gents < 28 | Ladies < 36
Facilities
n/a
Enrique Canales
José María Ramos Ducoy
José María Ramos Ducoy
Salavador Ruiz - Iván Mangas
Ramón Ramiro Acosta
Information
n/a
n/a
Yes
Yes
Yes
n/a
n/a
Electric / Manual
Yes.
With Pro resident
No
n/a
Added Value: 1 Free in 8 Players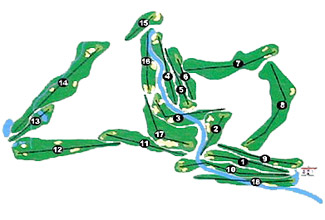 Directions:
5k from Marbella, situated only minutes from the city centre opposite the Hotel Los Monteros, behind the Costa del Sol hospital. 40 mins away from Malaga Airport
Address: Santa Clara Golf, Ctra. N-340, km. 187,5 - 29603 Marbella, Malaga
GPS:
Lat:
Lon:
Directions from:
Ok