Description:
Due to a fire that happened in the clubhouse earlier this summer, the golf course is currently operating with temporary facilities. The Tees, fairways and greens remain undamaged and in excellent condition. - Food and beverages are exclusive to the buggy bar. - Temporary restroom facilities remain available throughout the premises. San Lourenco is a par 72 golf course located in Quinta do Lago and is considered one of the best and most beautiful golf courses in Europe. The fact that this is an award-winning golf course is no coincidence. Bordering with the breathtaking Ria Formosa Natural Park, some of its golf holes are blessed with what can only be described as exquisite beauty. If the first holes of San Lourenco golf course present no major surprise or challenges, after the 3rd, closer to the estuary, San Lourenco golf course starts to reveal itself. After the 5th hole, a par-3 and the course's shortest, you're introduced to a dogleg, stroke 1 sixth hole where your main challenge will be to avoid the dense shrub, so make sure you get your distances just right. As you get to the 7th, life is by no chance made easier but you still get the bonus of the outstanding views from this elevated tee before you have to focus on how to get around that green almost entirely surrounded by water. On the back nine, the 12th is the most challenging hole on San Lourenco, featuring a deep chasm along the left of a very narrow fairway. Holes 13th to 16th also face the ocean with the latter proving to be the most demanding par-3, featuring a whole 180 m carry to a shallow green. Seventeenth is, again, extremely beautiful but still falls short of the beauty that awaits you on the last hole. It is a great finale and one that will remain in your memory as it has an excellence that is renowned worldwide. It is, without a doubt, a course for special occasions, that will provide you with unforgettable beautiful moments. Of course such a unique golf course had to have unique requirements concerning the booking of your green fees and that is only possible if you are a guest at the 5 star Dona Filipa Hotel nearby or by contacting a selected few like Tee Times Golf Agency who will make the required arrangements to book what will be one of the most special games of golf you will ever play in your life.
More Info ...
Details
Rates
Course Map
Location
Add to Shopping Cart
Details
18
72
6247 m / 6872 yd
5854 m / 6439 yd
5171 m / 5688 yd
Bermuda Tifton 419
Penn Cross
Bermuda Tifton 419
Gents < 28 | Ladies < 36
Facilities
n/a
Joseph Lee
Sociedade Hoteleira São Lourenço, Lda
António Rosa Santos
Albano Rodriques
Carlos Santos
Information
Everyday from 7:45am to 8:00pm
Everyday from 7:45am to 8:00pm
Yes
Yes
Yes
With Restaurant and Snack bar
n/a
Manual and Electric
Normal Set|Callaway Set
Resident professionals
Yes
Up to 17 years old
Tecnical
Gentle rolling fairways
Several on the front 9
With Pines
On the holes adjacent to the coastline
If Essential
On both 9's, clearly seen
Overall, with links feel to middle of the front 9
18th
Trully Championship Course w/ Great Scenery . Special ocasions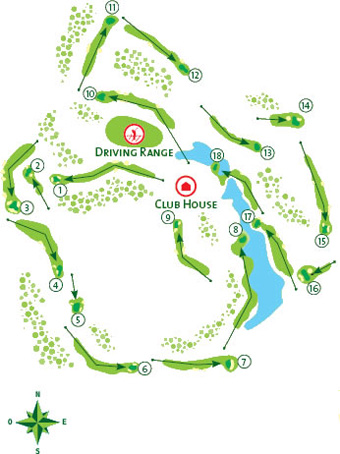 Directions:
When you arrive in Almancil, on the EN 125, proceed to Quinta do Lago. The course, properly signposted, will be on your left.
Address:
GPS:
Lat:
Lon:
Directions from:
Ok