Description:
Salgados Golf Course is a par 72 course located by the sea shore, near the renowned holiday resort of Albufeira, Algarve. Salgados Golf couse is actually set on a beautiful nature reserve, filled with migratory bird species, among them, the stunning pink flamingo, so whilst playing you'll also have the chance to admire some of these wonderful birds. Salgados' main element is, without a doubt, water. In fact, every hole apart from 17 has a lake on it, so if you're able to play the same ball start to finish consider yourself lucky! Salgados is a flat, modern links-style golf course with a tropical feel, enhanced by the pleasant sea-breeze.Hole 1, a par 4, offers you the opportunity to start your round with a birdie as you'll have plenty of space for your shots. But remember that since it's quite open you'll need to consider the wind factor. But an easy start nonetheless. Hole 2 is a difficult par 5 for most where your 2nd shot determines your success. Hole 7 is a great par 4 and the course's stroke 1 so keep your expectations tamed and don't be disappointed with a five. As you get to hole 12, a par 3, your choice of club is key. The back nine of Salgados golf course has two par 5's, 14 and 15, 14 is more accessible whilst 15 is a real par 5, where you'll need 2 and sometimes even 3 woods to have a chance at a good score. After your round of golf,at Salgados golf course, since you're already by the seaside, maybe some seafood and cool beers is the right thing on the menu. Try the beach restaurant at Salgados Beach or head further down the coast towards Armação de Pêra or even, if you prefer, head to Albufeira where you are really spoiled for choice. One thing we are sure of: you'll have a great day!
More Info ...
Details
Rates
Course Map
Location
Add to Shopping Cart
Details
18
72
6140 m / 6754 yd
5700 m / 6270 yd
4756 m / 5232 yd
Bermuda
Penn Cross
Bermuda
Gents < 27 | Ladies < 36
Facilities
n/a
Pedro Vasconcelos
Carlos Saraiva IV Hoteis - Exploração Turística, SA
Pedro Silvestre
John Wood
Helena Inácio
Information
Everyday from 7:45am to 8:00pm
Everyday from 7:45am to 8:00pm
Yes
Yes
Yes
With Restaurant and Snack bar
n/a
Manual and Electric
Full Set
Resident professionals
Yes
Up to 17 years old
Tecnical
Probably a bit more than links
Totally flat course in Algarve
If Essential
6th par 5
On every hole, being this courses theme
New Palm trees giving a nice feature
Yes, very. Wind direction playing a major part
Winding round water
a Unique golf course Good value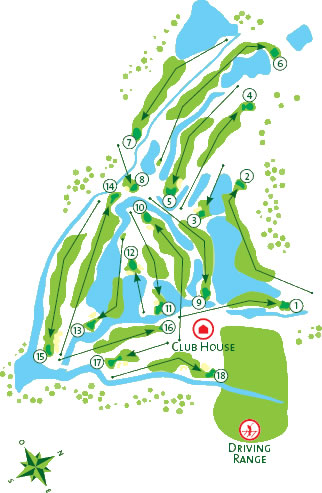 Directions:
Coming from Faro in the EN 125, turn left at Guia. At the first lights, turn right. The course is about 1 Km further on the left side.
Address:
GPS:
Lat:
Lon:
Directions from:
Ok