Description:
Cordoba Golf course is placed in the natural surroundings of the mountains of the Sierra de Córdoba. This 18-hole course has a challenging and very entertaining design which winds through trees, streams, valleys and mountains that make it fun. The tour has a very well-protected greens, and although easy to read, always require high concentration.
More Info ...
Details
Rates
Course Map
Location
Add to Shopping Cart
Details
18
72
5964m
5676m
4920m
n/a
n/a
n/a
Gents < 28 | Ladies < 36
Facilities
n/a
Progolf
n/a
Esteban Navarro
Daniel Nieto
Elena Vera
Information
n/a
n/a
Yes
Yes
No
n/a
n/a
n/a
n/a
n/a
No
n/a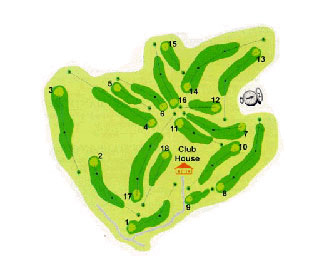 Directions:
The Golf course is located in the Sierra Morena mountains, north of Cordoba near Obejo. The best way to approach the club is to use the A4 highway. Take the ''Córdoba Norte-Badajoz'' exit (N-432). At Km 254, take the ''Cerro Muriano'' exit & take the CP-45 towards Los Villares recreational area. The Club de Campo will be on the right.
Address: Club de Campo de Córdoba Ctra. Antigua Cordoba-Obejo, km 9.2 , Apdo.436 14080 Obejo, Cordoba
GPS:
Lat:
Lon:
Directions from:
Ok