Description:
Quinta do Vale is a Severiano Ballesteros design located close to the Spanish border.A great challenging golf course with long holes, fairly wide fairways and tricky greens. The course is very hilly so you will need a buggy. Your shot from the tee will need to be perfect or you will have trouble to reach the green. Due to the course being high if it is windy you will find it more difficult. Some holes you need to be very precise or you could finish in the water. Hole 15th a par 5 has a beautiful view to the bridge of Guadiana from the tee. Quinta do Vale would suit players with medium low handicaps and is a very friendly course for ladies enabling them to enjoy a shorter distance with 955m between the red and yellow tees. A great golf course with beautiful views over the Guadiana River.
More Info ...
Details
Rates
Course Map
Location
Add to Shopping Cart
Details
18
72
6206 m / 6827 yd
5756 m / 6332 yd
4801 m / 5281 yd
Bermuda 419
Bentgrass L93
Bermuda 419
Gents < 28 | Ladies < 36
Facilities
n/a
Severiano Ballesteros
Quinta do Vale S.A.
Marco Oliveira
Sarah Jane
Luís Carrilho
Information
Everyday from 7:45am to 8:00pm
Everyday from 7:45am to 8:00pm
Yes
Yes
No
With Restaurant and Snack bar
n/a
Manual and Electric
Cobra set
Resident professionals
Yes
Up to 18 years old
Tecnical
Back 9
Sparcely
Very exposed on front 9
Essential
Few, clearly seen for decision on lay up or not
Park and Heathland
10th
Individually designed holes, value for money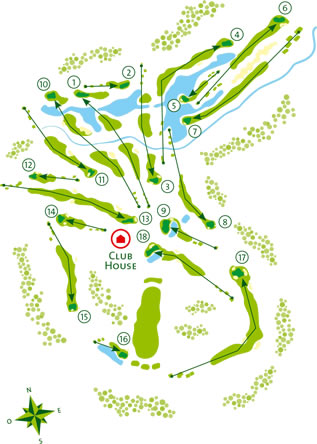 Directions:
To travel by air, the district capital of Faro has an international airport which can be reached by a 3-hour flight from most European capitals. The modern road network (IP1; A22; International Guadiana Bridge) means that the cities of Seville and Lisbon are just 2 hours' drive away along virtually traffic-free motorways, even at peak holiday times. The Algarve is also linked to the European network of railways and its many ports and marinas make it easily accessible by sea.
Address:
GPS:
Lat:
Lon:
Directions from:
Ok