Description:
Quinta da Ria takes its name because of the views along the Ria Formosa Nature Reserve. A very flat, open golf course with nice greens. Bunkers have lower edges, but very thick rough. You will also find some water around this golf course. Quinta da Ria would suit players with medium high handicaps and is a very friendly course for ladies enabling them to enjoy a shorter distance with 927m between the red and yellow tees. A commercial golf course with great views to the mountain, Ria Formosa nature reserve and ocean, great for playing whilst on vacation and beautiful to walk around.
More Info ...
Details
Rates
Course Map
Location
Add to Shopping Cart
Details
18
72
6053 m / 6658 yd
5910 m / 6501 yd
4980 m / 5478 yd
Bent Crenshaw
Bent Crenshaw
Bent Crenshaw
Gents < 36 | Ladies < 36
Facilities
n/a
William Roquemore Jr.
Quinta da Ria - Empreendimentos do Algarve, S.A.
Rosario Alpalhao
n/a
Paulo Dias
Information
Everyday from 7:00am to 8:00pm
Everyday from 7:00am to 8:00pm
Yes
Yes
Yes
With Restaurant and Snack bar
n/a
Manual and Electric
Men & Ladies - full or half set
On request
Yes
Up to 17 years old
Tecnical
yes
Long rolling slopes.
Only on Par 5's . Nearly all Par 4's are straight
Some Olives lining the Par 4's
Quite exposed especially around the coastline holes.
Fairly flat course
Predominate on 5 holes, with lateral ditches on many other holes
Only 2 / 3 holes
Most the course on 15 / 16 holes
10th
Very thick rough around the greens and flat bunkers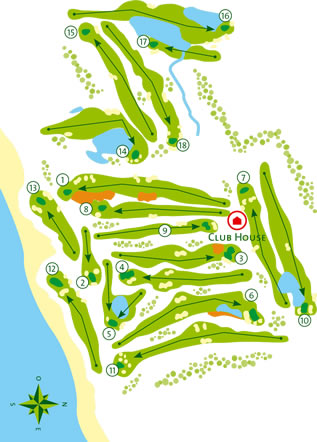 Directions:
Heading to Spain in the 125 National Road, at Km 142 shortly after Tavira, turn right and follow the sandy municipal road. 800m ahead, you will find the entrance through the green gate on your right hand side.
Address:
GPS:
Lat:
Lon:
Directions from:
Ok