Description:
Pula Golf was established in 1995 and totally redesigned by José María Olazábal before 2006 so as to fulfill the requests of universal and expert golf. It has been changed into an enormous and perfect golf course, standard 72 of 6.246m where 14 of the 18 holes offer view to the green from the tee and the other 4, from the second stroke. Standard 70 for experts. Pula Golf has a huge Driving-Range of two levels, one of them is covered and two Putting-Greens. Shortgame-Area including 3 pitching Greens and a huge Chipping-Green to rehearse all assortments of shots around the greens. Pula Golf offers an expansive calendar of beginner competitions and among its administrations, it counts with a Golf Academy run by Jaime Artiach. Pula Golf has become the location of significant occasions like the PGA European Tour Championships Mallorca, Mallorca Skin Games or Olazábal and Nadal Invitational, among others.
More Info ...
Details
Rates
Course Map
Location
Add to Shopping Cart
Details
18
72
6297m
5869m
5107m
n/a
5107m
n/a
Gents < 28 | Ladies < 36
Facilities
n/a
Francisco López - Redesign by José Mª Olazabal
Romeo Sala Massanet
Romeo Sala Massanet
Dieter Cabus
Roger Moore
Information
n/a
n/a
Yes
Yes
Yes
n/a
n/a
yes
yes
yes
Yes
n/a
Tecnical
coming in to play on 7 holes
the 5th a par 4 , players enjoying a elevated tee shot, with a lake meandering to the right of the fairway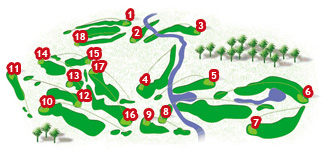 Directions:
Situated in the northeast of the area Levante of Mallorca near Son Servera & Arta.Nearest airport: 60km.
Address: l Pula Golf, Ctra. Son Servera- Capdepera, Km. 3, 07550 Son Servera
GPS:
Lat:
Lon:
Directions from:
Ok