Description:
This course is the longest and most demanding in Majorca, with a par 70 and 6.246 m long. At 14 holes the players are able to see the green from the tee, at the other 4 holes the green can be seen from the second hit. A PGA EUROPEAN TOUR VENUE
More Info ...
Details
Rates
Course Map
Location
Add to Shopping Cart
Details
18
70
6246m
5812m
5409m
n/a
5107m
n/a
Gents < 28 | Ladies < 36
Facilities
n/a
Francisco López - Redesign by José Mª Olazabal
Romeo Sala Massanet
Romeo Sala Massanet
Dieter Cabus
Roger Moore
Information
n/a
n/a
Yes
Yes
Yes
n/a
n/a
yes
yes
yes
Yes
n/a
Tecnical
coming in to play on 7 holes
the 5th a par 4 , players enjoying a elevated tee shot, with a lake meandering to the right of the fairway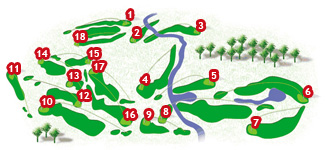 Directions:
Situated in the northeast of the area Levante of Mallorca near Son Servera & Arta.Nearest airport: 60km.
Address: l Pula Golf, Ctra. Son Servera- Capdepera, Km. 3, 07550 Son Servera
GPS:
Lat:
Lon:
Directions from:
Ok