Description:
Porto Santo's brand-new golf course stretches all the way across the island from dune-rolling beach to dramatic basalt cliffs. It offers that ideal combination - natural beauty and a challenging game. The layout was designed to blend in with the natural landscape, and immense care was taken to minimize impact on the environment. It features two distinct zones - a South Course in the American tradition, dotted with lakes and demanding a long, precise game; and a North Course played along spectacular cliff tops.
There is also a nine-hole 'pitch-and-putt' course of par-three holes (ideal for training precision shots), and a driving range. The clubhouse is a triumph of modern design, but blends harmoniously into the landscape, with its dry-stone walling, natural wood and hip wicker furniture.
More Info ...
Details
Rates
Course Map
Location
Add to Shopping Cart
Details
18
72+27
6434 m / 7077 yd
5984 + 1047 m / 6582 + 1152 yd
5357 + 850 m / 5893 + 935 yd
Bermuda Tifton 419
Agrostis
Bermuda Tifton 419
Gents < n/a | Ladies < n/a
Facilities
n/a
Severiano Ballesteros
Sociedade de Desenvolvimento do Porto Santo
Mário Silva
Andrew Oliveira
Enrique Barobia
Information
Everyday from 7:00am to 7:00pm
Everyday from 7:00am to 7:00pm
Yes
Yes
No
With Restaurant and Snack bar
Without GPS
Manual and Electric
Wilson / Callaway
Resident professionals
Yes
Up to 16 years old
Tecnical
Gently undulating
Exposed and 99% of the time windy
Few water hazards
Very dramatic 13th and 14th holes along the cliffs with a 500ft drop to the sea below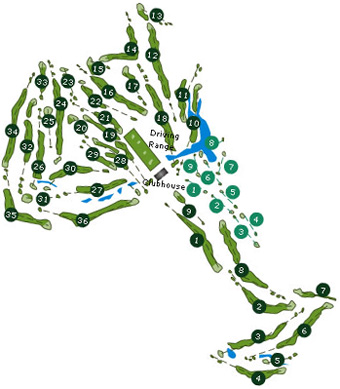 Directions:
Porto Santo is just a fifteen-minute plane ride away from Madeira, or one and a half hours flight from Lisbon. To reach Porto Santo you can opt between daily flights or the ferry which connects the two islands in a two and a half hour ride.|Porto Santo Golfe is about five minutes away from Porto Santo air and sea ports, near the beautiful beach of Porto Santo.
Address:
GPS:
Lat:
Lon:
Directions from:
Ok