Description:
Pinheiros Altos Golf Course offers 27 holes divided on 3 times 9 holes golf courses : The Corks, the Pines and the Olives. Olives and Pines, golf courses each presenting different characteristics. The Olives are the old back nine and are more flat, the wind has greater influence and have some holes where the water element comes in to play. The eighth hole, island par 3, is a good choice for nearest the pin, and is also the golf courses signature hole. Pines, the original front nine, where 4 new holes have been integrated and as its name indicates presents a more parkland course, plenty of pine trees, elevations, dog legs and also 3 lakes that protect 3 very tempting greens. The 4th a short par 5, the 5th a long par 4, stroke 1 and the 6th a par 5 reachable in 2 if you had a good tee shot. Signature hole, again a beautiful Par 3 over a valley to a McKenzie green. A great golf course, very demanding and if you succeed to finish with 36 points on stabelford you probably have played your best golf. Pinheiros Altos Corks Course is the longer and more demanding of the three nine holes. Starting right on the first tee. A narrow line for a dog leg fairway. The eighth hole, is the most difficult Par 5 in the Algarve, a double dog leg of 580 yards and a narrow gap, 120 mt before a elevated green well protected by bunkers. The Corks Golf Course is also a mixture of the original 4 holes and 5 new holes with spectacular views of the Ludo valley and the Goldra hills beyond.
More Info ...
Details
Rates
Course Map
Location
Add to Shopping Cart
Details
27
72
9198 m / 10118 yd
8607 m / 9468 yd
7355 m / 8091 yd
Bermuda
Penn Cross
Bermuda
Gents < 28 | Ladies < 36
Facilities
n/a
Ronald Fream and Santana da Silva
JJW Worldwide
Christophe Rindlisbacher
Ross Sutherland, Kenny Fairbairn
Sesinando Rodrigues
Information
Everyday from 7:45am to 8:00pm
Everyday from 7:45am to 8:00pm
Yes
Yes
Yes
With Restaurant and Snack bar
n/a
Manual and Electric
Titleist
Resident professionals
Yes
Up to 17 years old
Tecnical
the old back nine Oilves
Mainly on Pines & Corks
yes, but nothing acute
On Pines & Corks loops
If Essential
Several lakes
Yes
The 8th on the Corks , probably the most dificult par5 in Portugal
Nice mixture of trees and lakes , allways in good condition .
Added Value: Free driving range when playing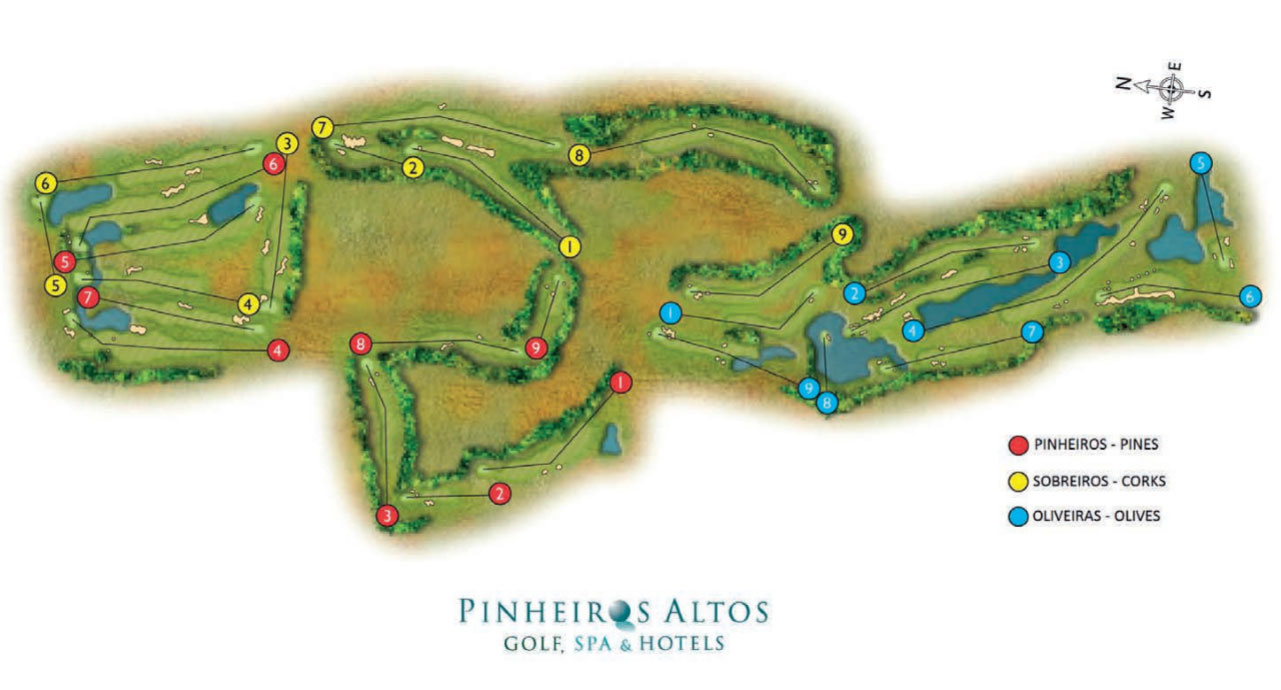 Directions:
Take the EN 125, when you arrive in Almancil proceed to Quinta do Lago. The Course is signposted and will be on the left.
Address:
GPS:
Lat:
Lon:
Directions from:
Ok