Description:
Penina Resort, is a pleasant 9 holes golf course Par 35 with 2987 metres, taking advantage of the principles laid down by Sir Henry Cotton with water hazards playing their tricks best; the Penina Golf Resort course, is an opportunity to fine-tune one's short game, while providing gentle training ground for beginners.
More Info ...
Details
Rates
Course Map
Location
Add to Shopping Cart
Details
9
71
n/a
5946 m / 6541 yd
5268m / 5795 yd
n/a
n/a
n/a
Gents < n/a | Ladies < n/a
Facilities
n/a
Sir Henry Cotton
Sociedade Turística da Penina, SA
Leonel Rio
Robin Liddle / José Lourenço / José Marcelino
Luís Domingos
Information
Everyday from 7:45am to 8:00pm
Everyday from 7:45am to 8:00pm
Yes
Yes
Yes
With Restaurant and Snack bar
Without GPS
Manual and Electric
Standard Set / Taylor Made Set
Resident professionals
Yes
Up to 17 years old
Tecnical
Easy walking
Several
With Pines
If Essential
Lateral ditches
Total
8th
Full size 9 hole course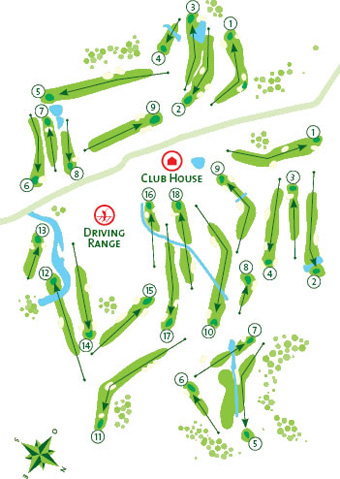 Directions:
Leaving Faro Airport, take the motorway A22 towards Loulé. After driving about 40 minutes, take the exit Alvor. You will come to a big round-about follow the signs to Figueira/Golf. You will find a BP Petrol Station after 500 m. on your left side is the entrance to the Penina Golf Resort.
Address:
GPS:
Lat:
Lon:
Directions from:
Ok