Description:
Ranked in the top 30 Courses in Continental Europe. With its bold drives, courageous approaches and artful greens, it is both an adrenalin rush and a soothing journey through one of Portugal's most inspiring landscapes. The opening holes and the final flourish share a wooded vale in the shadow of the rocky mountains, while others arc and plunge over scented hillsides. Exciting at every turn, this championship test and host to the Portuguese Open, is a master of variety and thrills. This course spreads around the historical heart of the resort and is the perfect complement to The Atlantic Course, ideal for guests who arrive in the late afternoon but who would still like to play a round of golf.
More Info ...
Details
Rates
Course Map
Location
Add to Shopping Cart
Details
9
35
2437 m / 2681 yd
2221 m / 2443 yd
1994 m / 2193 yd
Ray Grass
Penn Cross
Penn Eagle
Gents < 28 | Ladies < 36
Facilities
n/a
Robert Trent Jones Jr.
Caesar Park Hotel Portugal, S.A
Hugo Pinheiro
Antonio Dantas e Henrique Paulino
Carlos Vieira
Information
Everyday from 7:45am to 8:00pm
Everyday from 7:45am to 8:00pm
Yes
Yes
Yes
With Restaurant and Snack bar
Without GPS
Manual and Eletric ( about 50)
Full Set
Resident professionals
Yes
Up to 18 years old
Tecnical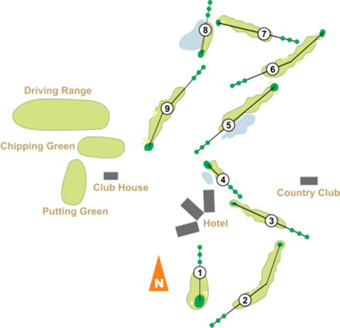 Directions:
From Lisbon take the A5 motorway until Estoril. Exit at the Estoril/Sintra and turn left onto the EN 9 and drive north towards Sintra. Further up this road turn to your left and follow the sign to Lagoa Azul.
Address:
GPS:
Lat:
Lon:
Directions from:
Ok