Description:
Oporto Golf Club,is the second oldest golf course in Continental Europe , established in 1890, when British residents in Porto created the club. This links golf course , is not to long , and is major challenges beside the wind from the near sea are the well protected wavy small greens . The Portuguese PGA have chosen this golf course for the 2015 and 2016 championship. Oporto golf club is home to other major and famous competitions , like the Skeffington Cup, Dockery and Kendall cups and also the European Girls Team Championship of 2001
More Info ...
Details
Rates
Course Map
Location
Add to Shopping Cart
Details
18
71
5553 m / 6108 yd
5338 m / 5872 yd
4906 m / 5397 yd
Several
Penn Cross
Several
Gents < 28 | Ladies < 36
Facilities
n/a
Francisco Javier Olazabal
Oporto Golf Club
n/a
Eduardo Maganinho / José Maganinho
José Granja
Information
Everyday from 7:45am to 8:00pm
Everyday from 7:45am to 8:00pm
Yes
Yes
No
With Restaurant and Snack bar
Without GPS
Manual
Full Sets
Resident professionals
Yes
Up to 18 years old
Tecnical
on a few holes
16th par 3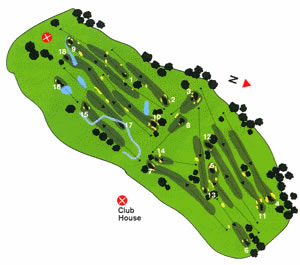 Directions:
Take the Oporto-Lisbon motorway, then follow the EN 109 to Espinho. The course is a little south of this town.
Address:
GPS:
Lat:
Lon:
Directions from:
Ok