Description:
Morgado golf course,home of the new Portuguese Open Championship, part of the Europeen Tour is a stunning par 73 golf course located on the foots of Algarve Monchique mountains,just a short drive from the seaside town of Portimão and the fishing village of Alvor. When you play at Morgado golf course be prepared to experience two different nine holes – one slightly flatter and the other undulating, displaying impressive views across the Monchique mountains. Morgado golf course is a walkable course, if you've got the stamina, but when the weather warms up you'll want to enjoy the comfort of a buggy, in fact, accesses to the fairways are extremely well displayed. The back 9 is slightly more challenging because of the aforementioned undulating features but also because the valley is mountain-sided, creating a kind of funnel for the wind to blow through.Morgado golf course is not a long golf course, however, all the Par 3 are quite long ones, especially on the front 9 where you will find 2 golf holes with nearly 200 meters each. To compensate, the Par 4 are relatively short golf holes allowing an average golfer to hit the green in regulation. Strategically, we advise you to build a good result on the front 9 and use it as a warm up for your back nine. The 18th at Morgado golf course is a superb finishing hole, with an elevated tee looking down at the beautiful view of the wavy fairway, sheltered by bunkers, and Clubhouse in the distance. A true signature hole and a great way to end your golf round. By par or by birdie, you are sure to want to come back! A round on this championship course is also a great chance to appreciate the surrounding nature of that side of the Algarve.
More Info ...
Details
Rates
Course Map
Location
Add to Shopping Cart
Details
18
73
6581 m / 7239 yd
6035 m / 6639 yd
5124 m / 5636 yd
Bermuda Tifton 419
Penn A4
Bermuda Tifton 419
Gents < 28 | Ladies < 36
Facilities
n/a
Russell Talley (European Golf Design)
Imoreguengo, Desenvolvimento e Promoção Imobiliária, SA
Jorge Papa
John Seymour
n/a
Information
Everyday from 7:00am to 8:00pm
Everyday from 7:00am to 8:00pm
Yes
Yes
Yes
With Restaurant and Snack bar
n/a
Manual & Electric
Rental Available
Resident professionals
Yes
Up to 16 years old
Tecnical
Total
Rolling terrain more hilly on the back 9
Recommended due to back 9
14th
On both 9's, but all visable
Wind direction and speed play a big part in club selection
Slight ones on the back 9
Inland course, very good value for money
Added Value: 1 Free in 12 Players (Only in 18 Holes item)
European Tour Golf course - Portuguese Open 2017, 2018 and 2019
157€
187€
242€
187€
242€
187€
157€
90€
105€
131€
105€
131€
105€
90€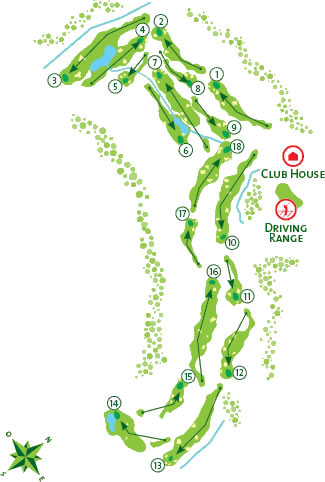 Directions:
Take the road to the north from Portimão in the direction of Monchique and Silves and under the new A22 Motorway. From the access roundabout of the A22 follow the signs to Monchique and Silves. After 1.1 kms take the well signposted left turn and drive a further 1.2 kms to the west where you take a right turn into the Morgado Estate. Follow the road to the Club House. (11.8 kilometres in total).
Address:
GPS:
Lat:
Lon:
Directions from:
Ok