Description:
This mountain course situated against the majestic backdrop of the Serra da Estrela and the Serra do Caramulo was the first golf course to be built in the Beiras region. The mountainous Montebelo golf course, dotted here and there with gorse and heather, runs through clumps of pine and oak-trees. It is divided into two parts, named according to their main geographical landmarks: the Caramulo course (the first nine holes) and the Estrela Course (the second nine holes).
Doglegs are a constant feature of this course and the final sequence is truly unforgettable: the last three holes provide breathtaking views over valleys, streams, hills, lakes and well protected greens. The most memorable hole, however, is number 12 (a long par 3, running downhill to the green with a bunker to the left and a lake behind). The hole is considered to be 'the soul of the course' because of its challenging physical characteristics and the unique landscape that surrounds it.
More Info ...
Details
Rates
Course Map
Location
Add to Shopping Cart
Details
27
72
Caramulo 6317 m / 6949 yd - Estrela 5718 m / 6290 yd - Buçaco 5134 m / 5647 yd
Caramulo 5924 m / 6516 yd - Estrela 5476 m / 6024 yd - Buçaco 4830 m / 5313 yd
Caramulo 5933 m / 6526 yd - Estrela 5356 m / 5892 yd - Buçaco 4740 m / 5214 yd
Festucas/ Agrotis
Agrotis Providence
Festucas/ Agrotis
Gents < 28 | Ladies < 36
Facilities
n/a
Mark Stilwell / Malcolm Kenyon
Empreendimentos Turísticos Montebelo, S.A
Fernando Correia
João Couto / Rui Basílio
Luís Lomelino de Freitas
Information
Everyday from 7:45am to 8:00pm
Everyday from 7:45am to 8:00pm
Yes
Yes
No
With Restaurant and Snack bar
Without GPS
Manual
Full Set
Resident professionals
Yes
Up to 16 years old
Prices available on request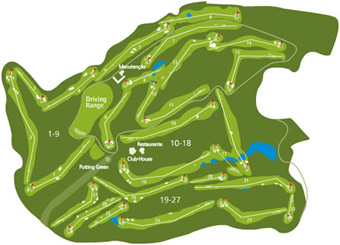 Directions:
Coming from Lisbon, take the IP 3 to Viseu, and at km 111 turn off at the São Miguel do Outeiro-Sabugosa-Parada de Gonta exit. The course, which is about 5.5 km away, is signposted from here. Coming from Porto, take the IP 5 to Viseu, and at km 75, turn off at the Tondela-Caramulo exit. The course is signposted from here and is about 10.5 km away.
Address:
GPS:
Lat:
Lon:
Directions from:
Ok