Description:
Lisbon Sports Club is located in the Sierra Carregueira, a rural mountainous region, about 20km from Lisbon, 18 holes - Par 69. This Golf Course is the oldest in Lisbon and the clubhouse is steeped in history. Throughout its 5261 meters, lies a rich forest biodiversity and a watercourse accompanies almost the whole route, creating a few traps along the way. Narrow tee shots and some blind shots to small greens, all add to the challenge of this golf course. Pay attention on the 16th, par 5, don't go too far past the zebra post on your 2nd shot as there is a ravine hiding a large stream before the green. The golf course is quite rustic and not manicured at all, it has a good feel to it, players are immersed in nature. There are some lovely views with no houses and a lot of trees. Most of the tees are elevated, therefore a buggy is most definitely recommended.
More Info ...
Details
Rates
Course Map
Location
Add to Shopping Cart
Details
18
69
5309 m / 5840 yd
5029 m / 5532 yd
4658 m / 5124 yd
Penn Links
Penn Cross
Penn Links
Gents < 28 | Ladies < 36
Facilities
n/a
Hawtree & Sons
Padeca, S. A.
Pedro Nunes Pedro
José Baltazar
Hugo Amaral
Information
Everyday from 7:45am to 8:00pm
Everyday from 7:45am to 8:00pm
Yes
Yes
No
With Restaurant and Snack bar
Without GPS
Manual and Electric
Stander
Resident professionals
Yes
Up to 18 years old
Tecnical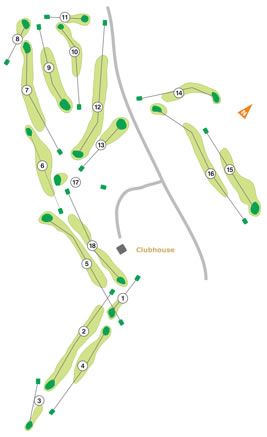 Directions:
A new motorway (A16) can now be used for those who to reach "Lisbon Sports Club" coming from Cascais, Estoril and Sintra. Take A5 or IC19 to access the A16 and leave at junction 11 (Telhal / Vale-de-Lobos).Take the left exit at the roundabout, direction Vale-de-Lobos, and follow straight ahead. At the first junction turn right, direction Belas. After passing Belas Clube Campo, "Lisbon Sports Club" can be found on the first entrance on the right.
Address: Casal da Carregueira – Belas 2605-213 Belas / Lisboa
GPS:
Lat:
Lon:
Directions from:
Ok