Description:
Laranjal golf course named as it was originally an orange grove and opened in 2009 is the newest Quinta do Lago golf course. Designed in an American style, very long and wide with huge fast greens. There is only one hole which is slightly high. Hole 9 is a beautiful Par 5 with water protecting the green and hole 7 is one of the longest par 3 in Portugal with 236m from the pro tees . Laranjal is a challenging golf course but would suit all players and is a special friendly golf course for ladies enabling them to enjoy 877mt less distance between the red and yellow tees. A beautiful well liked golf course with great views. The Ocean is visible and due to the location in the laranjal, or orange grove you will be able to pick the oranges as you play!
More Info ...
Details
Rates
Course Map
Location
Add to Shopping Cart
Details
18
72
5834 m / 6417 yd
4977 m / 5475 yd
3744 m / 4118 yd
Bermuda
Bentgrass
Bermuda
Gents < 28 | Ladies < 36
Facilities
n/a
Jorge Santana da Silva
Quinta do Lago
Patrick Murphy
Domingos Silva, Jason Hoyles
Paul O'Mahoney
Information
Everyday from 8:00am to 8:00pm
Everyday from 8:00am to 8:00pm
Yes
Yes
Yes
With Restaurant and Snack bar
With GPS
Manual and Electric
Rental & Purchase Possible
Resident professionals
Yes
Up to 16 years old
Tecnical
Yes
Flat with no severe slopes
If Essential
16th Par 5
a few water hazards on both 9's
Sparce newly planted
Yes
Added Value: 1 Free in 16 Players
Free Golf Shuttle (Minimum 4+ persons) - subject to availability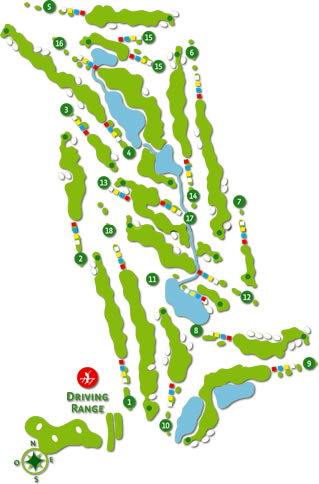 Directions:
On the EN 125, going from VILAMOURA towards the airport, 3 km approx after ALMANCIL, turn right at LUDO sign and follow the signs to the golf course.
Address:
GPS:
Lat:
Lon:
Directions from:
Ok