Description:
La Envia golf course is a 18 hole par 70 spread over more than 5,700 metres of land, with many bunkers, water features and carefully positioned greens to present the golfer with an interesting test of their skill and ability. Players will not fail to notice the care of its interesting and challenging greens, many of which are raised, designed to bring a mixture of fun and difficulty to your round, at Envia golf course. Palm trees, mimosas and olive trees over a hundred years old and many native shrubs, help define the limits of each hole giving the image of a splendid oasis. On both the east side and west are mountains that protect the golf course from the winds, creating ideal conditions for the practice of this fantastic sport. Booking golf and tee times at La Envia golf course is certainly a sure bet .
More Info ...
Details
Rates
Course Map
Location
Add to Shopping Cart
Details
18
70
5.413 mt
5.316 mt
4.848mt
Bermuda
Agrotis
Bermuda
Gents < 36 | Ladies < 36
Facilities
n/a
Francisco Mendoza Montero
Francisco Mendoza Montero
Mª del Mar Martin Garcia
Jose Manuel Ruiz Moreno & Juan Antonio Ruiz Moreno
Elisardo Sanchez Sola
Information
yes
yes
Yes
Yes
Yes
yes
n/a
Manual
Yes
Yes. With Pro resident
Yes
n/a
Tecnical
12th hole with spectacular views from the tee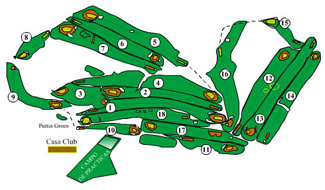 Directions:
The golf course is around 25 minutes by car from Almeria International Airport, 15 minutes from the city centre and within easy reach of the beach resorts of Roquetas del Mar and Aguadulce as well as 2 natural parks.
Address: Ctra. de Alicún, Km. 10,3 - 04727 Vícar, Almería
GPS:
Lat:
Lon:
Directions from:
Ok