Description:
Granada Golf course was the first to be built near the city of Granada opened in 1986. The golf course is very near Granada and offers excellent views of the Sierra Nevada mountains. This is a fairly short and mainly flat golf course. There are two large lakes and one small one on the golf course. Stretching 6,037 metres from the back tees, it is a relatively easy golf course, but does have two large lakes which are used to water the golf course through automatic irrigation while also serving as obstacles at the 15th, 16th and 17th holes. The 15th hole is tricky because the fairway narrows and there is water on the right-hand side. The green is tiered and the pin position can be tricky. Practice facilities include a driving range, and pitching and putting greens. Included in the complex is a four star hotel, and the clubhouse.
More Info ...
Details
Rates
Course Map
Location
Add to Shopping Cart
Details
18
71
n/a
n/a
n/a
n/a
n/a
n/a
Gents < 28 | Ladies < 36
Facilities
n/a
Ramón Espinosa / Emilio Muñoz
n/a
José Manuel Canalejo Mesa
Rafael Chica Gámez
n/a
Information
n/a
n/a
No
No
No
n/a
n/a
n/a
n/a
n/a
No
n/a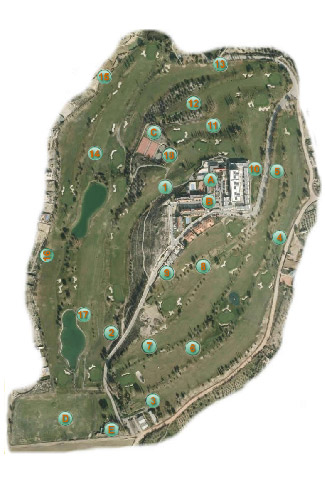 Directions:
This Golf course is located 8km from Granada, nearest Airport Granada.
Address: Granada Club de Golf Avenida de los Cosarios - 18110 Gabia Grande, Granada
GPS:
Lat:
Lon:
Directions from:
Ok