Description:
Gramacho golf is a par 72 course, located near Carvoeiro, western Algarve. Ronald Fream designed a course with 18 greens and tee boxes and 9 fairways. Later, Nick Price added the other 9 fairways and refurbished the existing so one interesting feature on this course is that many of its holes have 2 greens. Gramacho is a short course, with undulating greens and fairways. In fact, it is quite a hilly course, often with steep terrain, making it a walking challenge for the less fit. The front nine starts with a picturesque 1st hole where you'll need to lay up short of the central rock and tree outcrop, to leave a flighted short iron second. An uphill, downhill exercise takes you to the 6th hole, a par 5 with a tree in the centre of the fairway. Hole 10 is the course's most beautiful hole where uneven terrain and a lake condition your shots. Hole 12 is a true par 5 with a dogleg right that requires two good shots so that your third one has some visibility onto the green. The 16th hole is the course's stroke 1, a tricky par 4, narrow, with many hazards for you to contend with. Hole 18 is a par 5 with a hard tee shot onto an uphill fairway surrounded by obstacles such as trees, rocks and 3 deep bunkers protecting the green. Gramacho is a nice course, with beautiful algarvean countryside but just a bit demanding on the legwork. Nevertheless, it has hosted the Portuguese Ladies Open on several occasions.Carvoeiro area is known for its breathtaking beaches and wonderful seafood so your best bet for a post-golf drink and/or meal is to head for the coast where the choice of restaurants and beach bars is wide and will not disappoint.
More Info ...
Details
Rates
Course Map
Location
Add to Shopping Cart
Details
18
72
5532 m / 6085 yd
5212 m / 5733 yd
4777 m / 5255 yd
Ray Grass
Bent Grass
Ray Grass
Gents < 27 | Ladies < 35
Facilities
n/a
Ronald Fream
Carvoeiro Golfe, SA
José Carlos Matias
Mark Gasper, Carlos Ribeiro
Miguel Grosso
Information
Everyday from 7:45am to 8:00pm
Everyday from 7:45am to 8:00pm
Yes
Yes
Yes
With Restaurant and Snack bar
n/a
Manual
Wilson|Callaway
Resident professionals
Yes
Up to 16 years old
Tecnical
Hilly terrain
On both 9's, some near 90 degrees
More so on the back 9
If Essential
On back 9, but well in view, exept the 17th
Yes
10th
Offers the player a chance to score well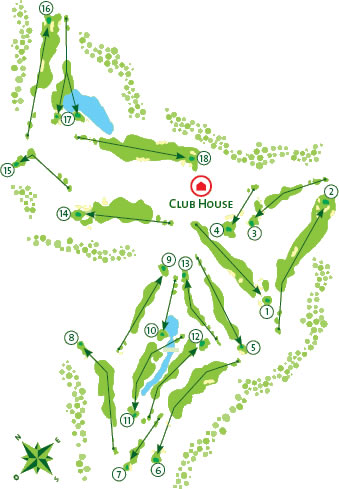 Directions:
The Pestana Golf Resort, Gramacho Course, is situated close to the town of Lagoa, 4 km from the village of Carvoeiro, 10 km from the village Portimão and 30 minutes away from Faro International Airport. From the airport, take the motorway (Via do Infante - A22), as far as the town of Lagoa. At the junction for Carvoeiro follow this road in the direction of Sesmarias. To assist you, you will find 'Pestana' signed from Lagoa.
Address:
GPS:
Lat:
Lon:
Directions from:
Ok