Description:
Montado Golf Course hostes the International of Portugal since 2009. It is a par 72, with 6.366m, distinguished by environment dominated by vineyards and flat morphology region, developing a fitted oak trees where brooks and lakes make it unique.The course layout offers large greens and holes with particular characteristics, highlighting the 18th hole where the green is situated on an island.The Clubhouse (2000m2 covered area) also the subject of an internal rearrangement including a spa, gym, sauna, Turkish bath and heated indoor pool, hair salon.
More Info ...
Details
Rates
Course Map
Location
Add to Shopping Cart
Details
18
72
6224 m / 6846 yd
5808 m / 6389 yd
4716 m / 5188 yd
Bermuda
Penn Cross
Bermuda
Gents < 28 | Ladies < 36
Facilities
n/a
Jorge Santana da Silval
Luso M – Turismo S. A.
Marco Andrade
Tony Bennett, Richard Banks
João Pinto Abreu
Information
Everyday from 7:45am to 8:00pm
Everyday from 7:45am to 8:00pm
Yes
Yes
Yes
With Restaurant and Snack bar
Without GPS
Manual
n/a
Resident professionals
No
Up to 18 years old
Tecnical
technical golf course , not to long but challenging .
Prices available on request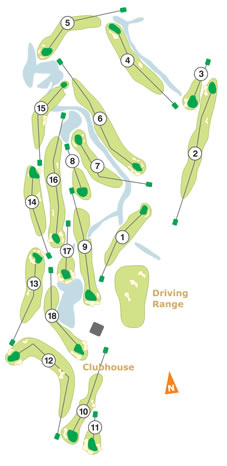 Directions:
From Lisbon .Drive south on the A2 (IC3) to the town of Setúbal. Just as you enter Setúbal there are traffic lights. Here, turn to the left and drive east to you pass Pontes village . There is a direction sign to the course after Pontes on the road. left side .
Address:
GPS:
Lat:
Lon:
Directions from:
Ok