Description:
In Paço do Lumiar you can find a Golf Academy, with programs carefully structured for all kinds of players, as well as 'Clube à Descoberta', a special program for juniors (from 3 to 18 years old). All of this right in the middle of Lisbon.
Clube de Golfe Paço do Lumiar has all you need to practice your favorite sport. Be surprised with an hugely entertaining 9 hole course – seven par 3 and two par 4, very diversified – a Driving Range (covered and illuminated) a Short Game area and a Putting Green area.
More Info ...
Details
Rates
Course Map
Location
Add to Shopping Cart
Details
9
29
1561 m / 1717 yd
1459 m / 1605 yd
1352 m / 1487 yd
Bermuda
Penn A4
Bermuda
Gents < 28 | Ladies < 36
Facilities
n/a
Gary Grandstaff
Urbanização Quinta dos Alcoutins
Maria da Graça de Torres Fevereiro
Colin Smith, Vitor Alves da Silva, Gonçalo Abreu
Nuno Moura
Information
Everyday from 7:45am to 8:00pm
Everyday from 7:45am to 8:00pm
Yes
Yes
No
With Restaurant and Snack bar
Without GPS
Manual and Electric
n/a
Resident professionals
No
Up to 18 years old
Prices available on request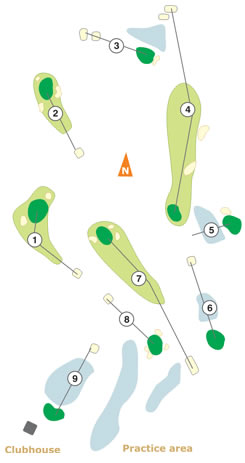 Directions:
Located near Telheiras and Campo Grande, follow the orange Golfe signs that will lead you to the golf course.
Address:
GPS:
Lat:
Lon:
Directions from:
Ok