Description:
Estoril Golf Club dates back to 1929 in its first nine-hole version and it was built by Fausto de Figueiredo, the gambling concessionaire at the Estoril Casino. In the new design, the former 9th hole disappeared, and an alteration was made to the fairway of the 13th hole - the famous Patiño's hole - that now has a dogleg to the right and the second shot is played from the area where the old green was located. The green is now on a higher level. With the disappearance of the 9th hole it was necessary to build another hole, which is now number 13, a par 3 of 160 metros in length.
Finally, the 16th hole has a re-designed green but it is still a par 3, 186 metres long, but 15 metres shorter than the previous one, and it is considered by many players to be one of the best holes in Portugal.
More Info ...
Details
Rates
Course Map
Location
Add to Shopping Cart
Details
18
69
5189 m / 5708 yd
4903 m / 5393 yd
4373 m / 4810 yd
Bent Grass
Penn Cross
Bent Grass
Gents < 28 | Ladies < 36
Facilities
n/a
Jean Gassiat & Mackenzie Ross
Estoril Plage S.A
Francisco Pinheiro
Carlos Aleixo, Joaquim Rodrigues, Jorge Rodrigues, Daniel Grimm, Gordon Young
Francisco Pinheiro
Information
Everyday from 7:45am to 8:00pm
Everyday from 7:45am to 8:00pm
Yes
Yes
No
With Restaurant and Snack bar
Without GPS
Manual
Full Set
Resident professionals
Yes
Up to 18 years old
Added Value: 1 Free in 8 Players | Buggy possible to book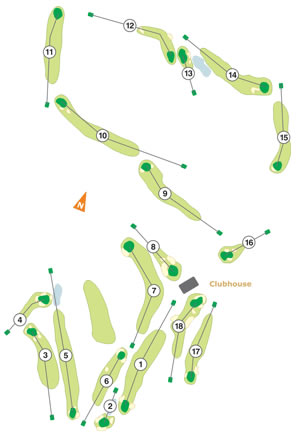 Directions:
From Lisbon take the A5 motorway until Estoril. Exit at the Estoril/Sintra and turn right onto the EN 9 into Estoril. The entrance to the course is about 200 metres down this road on your left hand side.
Address:
GPS:
Lat:
Lon:
Directions from:
Ok