Description:
Estela Golf course located in a magnificent area, seaside, is a traditional Portuguese links golf course. With is narrow, winding fairways , elevated greens, and the sea breeze you can expect a good test of your skills when playing this very demanding golf course . The fairways and the greens are always in great condition. Estela golf course features a private club nature , and most golf players on the course are members. The club house has a varied menu and good quality food, along with a friendly service . The weather unlike the south of Portugal the temperature rarely rises above 25ºC (80ºF), even in the hotter period,
More Info ...
Details
Rates
Course Map
Location
Add to Shopping Cart
Details
18
72
6155 m / 6771 yd
5878 m / 6466 yd
5265 m / 5792 yd
Bermuda Tifton
Penn Cross Bent
Bermuda Tifton
Gents < 28 | Ladies < 36
Facilities
n/a
Duarte Sotto-Mayor
Estela Golf – Actividades Desportivas e Turísticas, S.A
João Nuno Sarmento de Beires
Patrícia Brito e Cunha
José Costa
Information
Everyday from 7:45am to 8:00pm
Everyday from 7:45am to 8:00pm
Yes
Yes
No
With Restaurant and Snack bar
Without GPS
Manual
Full Sets
Resident professionals
Yes
Up to 16 years old
Tecnical
fairways
right next to the sea
a few water hazard , but none near the greens
the 6th par 4 , with a tee shot over small pond and a fairway winding up the hillside. Behind the green a impressive windmill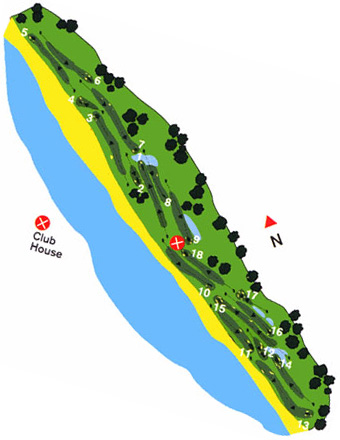 Directions:
The Estela Golf Course is located in Póvoa de Varzim. If you are arriving from Porto via IC1, take a right turn towards Estela after the Póvoa de Varzim exit. Afterwards, just follow the signs and you will easily find us after approximately 3 Km.
Address:
GPS:
Lat:
Lon:
Directions from:
Ok