Description:
Desert Spring Golf Course Designed by former G.B. and Ireland Golf Team Captain Peter McEnvoy is a true desert golf course, the rough consists firstly of "hardpan" desert, being compacted top soil, then further off the fairway, sand and gravel flowering desert and finally pebble, cactus and rock desert and arroyos. At Desert Springs golf course, the unsteady shot will be gradually punished the further it ends up off the fairway, so accuracy is everything at this fantastic golf course. Desert Springs clubhouse built above the lake near the 18th hole will afford the golfer a refreshing and comfortable surrounding after a round of golf on this jewel in the famous desert of Almería.
More Info ...
Details
Rates
Course Map
Location
Add to Shopping Cart
Details
18
72
6173m
5698m
5131m
n/a
n/a
n/a
Gents < n/a | Ladies < n/a
Facilities
n/a
Peter McEvoy
Steven Hitchins
Simon Coaker
Simon Coaker
n/a
Information
n/a
n/a
Yes
Yes
Yes
n/a
n/a
Electric / Manual
Yes.
Yes. With Pro resident
No
n/a
Tecnical
14th and 15 , both with spectaculat shots over a lake to the green
very well maintained golf course , greens with sharp undulations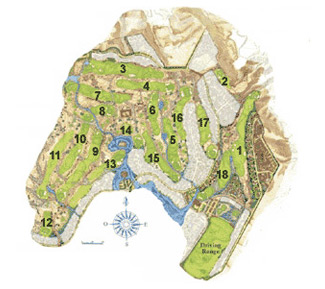 Directions:
Address: Palomares - 04618 Villaricos, Cuevas del Almanzora,
GPS:
Lat:
Lon:
Directions from:
Ok