Description:
Costa Esuri Golf Club, rated as a Gold Course of Aymerich Golf Management, is part of Costa Esuri Golf Resort, located in Ayamonte, in the heart of the Spanish Algarve. Two 18-hole courses, and a magnificent hotel resort, comprises the best choice for your golf in Costa de la Luz and in the East of the Algarve.The lack of houses in the course, 36 holes, its privileged location on the bank of the Guadiana River, the fantastic views to Portugal and to the mouth of the river, the little distance to the beach, all the comforts and the complementary offer of the Resort, make this club a golfers paradise.
The West Course is a long course, over 7,300 yards long of American style, with very wide fairways, and exquisite shaping of the greens, with spectacular views to Portugal and to the Guadiana River.
The East Course, opened in February 2008, is quite long as well, with more than 6,900 yards, is very well integrated in the slope towards the salt marshes of the Guadiana River, and with views to the sea and the town of Ayamonte. It is a more technical course than the West one.
More Info ...
Details
Rates
Course Map
Location
Add to Shopping Cart
Details
18
72
6570 m / 7227 yd
6233 m / 6856 yd
5449 m / 5994 yd
Bermuda Princess
Agrostis L93
Bermuda Princess
Gents < 28 | Ladies < 36
Facilities
n/a
Mr. José Canales
Aymerich Golf Club
Mr. Ignacio Santiuste Ruiz
Mr Christopher Truter
n/a
Information
Everyday from 7:00am to 7:00pm
Everyday from 7:00am to 7:00pm
Yes
Yes
Yes
With Restaurant and Snack bar
Without GPS
Manual and Electric
Standard
Resident professionals
No
Up to 16 years old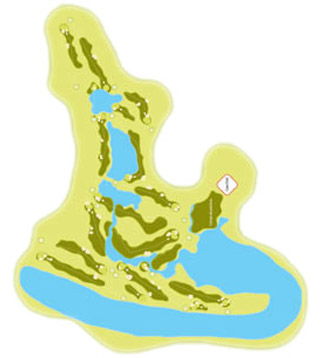 Directions:
Take the exit 131 of the A-49, towards Ayamonte North (Ayamonte Norte). You will see on your left hand side the Fadesa Sales Office. Keep staright 1 kilometer, and you will get to the club.
Address: A49 Sevilla-Portugal km 131. Urb:Costa Esuri 21400 Ayamonte, Huelva
GPS:
Lat:
Lon:
Directions from:
Ok