Description:
The Playa Serena Golf club is situated 20 kilometres from Almería in the town of Roquetas de Mar and was opened in 1979. It is a flat course, of British design, offering views of the sea and running along the edge of the beach. There are no big slopes so the golf course is suitable for players of all levels. The fairways are wide but you have to watch out for the greens which are protected by water hazards and bunkers. As you would expect from a links-style golf course, there is a wide variety of vegetation, and plenty of water hazards. Watch out for the par-5 13th where most players see their scorecards ruined.
More Info ...
Details
Rates
Course Map
Location
Add to Shopping Cart
Details
18
72
6236m
5975m
5270m
n/a
n/a
n/a
Gents < 28 | Ladies < 36
Facilities
n/a
Angel Gallardo y Peter Allis
Dº Enrique Lopez Monzo
Jose Fco. Guzman (Director comercial)
Francisco Parrón Moreno
Luis Lopez Martin
Information
n/a
n/a
Yes
Yes
Yes
n/a
n/a
Electric / Manual
Yes.
Yes. With Golf Pro
No
n/a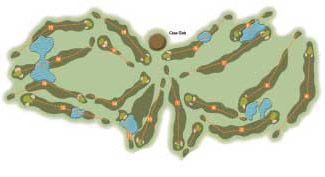 Directions:
Address: Paseo del Golf, Urb. Playa Serena 04740 Roquetas de Mar, Almeria
GPS:
Lat:
Lon:
Directions from:
Ok