Description:
Bom Sucesso Golf Course starts with a great par 4 playing with drive to the right side of the fairway, avoiding the bunker to the left and the barrier of trees planted between 1 and 9 hole.The blow out the shot is slightly uphill for a second shot to the green with steeper slope. The green is on a higher plane relative to the fairway and the ball the majority of players will be short. However, there is compensation for the player with a blow too long, because the back of the green is a lot, stopping the balls and having the ability to roll these to the green.This is quite wide and wavy testing the quality of players in putt.
More Info ...
Details
Rates
Course Map
Location
Add to Shopping Cart
Details
18
72
6238 m / 6862 yd
5854 m / 6439 yd
4842 m / 5326 yd
n/a
n/a
n/a
Gents < 28 | Ladies < 36
Facilities
n/a
Donald Steel
Bom Sucesso, Design Resort, Leisure, Golf & Spa
Luis Marto
Filipe Gonçalves
Duarte Beltrão
Information
Everyday from 7:45am to 8:00pm
Everyday from 7:45am to 8:00pm
Yes
Yes
Yes
With Restaurant and Snack bar
Without GPS
Manual
n/a
Resident professionals
Yes
n/a
Added Value: Free 9 holes for every 18 on same day bookable onsite subject to availability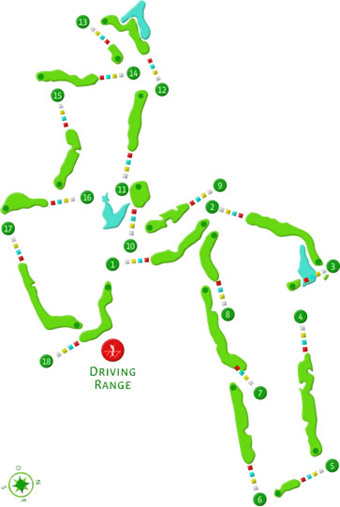 Directions:
At the roundabout on the exit of the Airport, follow the signs to A8 OESTE.|Head towards A8 LEIRIA during 65 Km.|Take EXIT 13 - way A-DA-GORDA.|Head towards AMOREIRA (follow the BOM SUCESSO red signs) during 3Km.|At AMOREIRA, turn right in direction to VAU/BOM SUCESSO.|Head 4 Km until you find Óbidos Lagoon.|You arrived BOM SUCESSO.
Address:
GPS:
Lat:
Lon:
Directions from:
Ok