Description:
Bellavista Huelva Golf club is an historical golf course in Andalusia. Opened in 1916 and ever since is collecting the best golfers best reviews. With a number of long par 5's and also some lengthy par 4's, just to reach the fantastically manicured greens in regulation will be an achievement for many.The wide fairways and the little distance between greens and tees will make your round enjoyable, quicker, and much more comfortable. Among its most difficult holes, number four stands out which requires a good drive in order to leave the ball near the green with a good second shot.
More Info ...
Details
Rates
Course Map
Location
Add to Shopping Cart
Details
18
70
5806 m / 6350 yd
5611 m / 6136 yd
5094 m / 5571 yd
n/a
n/a
n/a
Gents < 36 | Ladies < 36
Facilities
n/a
Luis Recasens / M. Queirpo de Llano
n/a
Cristobal Guerrero López
Miguel Sánchez Becerra
Juan Gomez Barreiros
Information
n/a
n/a
Yes
Yes
Yes
n/a
n/a
n/a
n/a
n/a
No
n/a
Added Value: 1 PGA Pro free in 8 players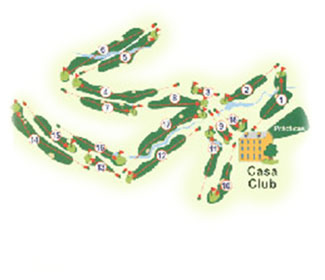 Directions:
Address: Bellavista Huelva Golf Club. Crta. Huelva-Aljaraque, Km 6. 21120-Aljaraque – Huelva – España.
GPS:
Lat:
Lon:
Directions from:
Ok