Description:
Batalha golf course where the green of the land meets the blue of the ocean, a historic landscape awaits you. This course, designed by Cameron Powell in 1986, offers 27 holes of golf laid out over 120 há, with its magnificent setting, nestling on the skirts of the surrounding hills and with sweeping views to the ocean – has large flowing greens, wide and generous fairways and sinuously contoured bunkers. It is difficult to select a best hole – they are all in some ways exceptional – but there is a very special sensation to be felt when standing on the soaring 6th Tee of the B loop.The facility opened to the public in 1993 and its sumptuous clubhouse offers a unique setting for weddings and other banqueting events. Batalha Golf Course is situated on the north coast of São Miguel island, just 10 minutes from the centre of the capital Ponta Delgada.
More Info ...
Details
Rates
Course Map
Location
Add to Shopping Cart
Details
27
72
9616 m / 10578 yd
9152 m / 10067 yd
8049 m / 8854 yd
Bermuda Grass
Penn Links
Bermuda Grass
Gents < 28 | Ladies < 36
Facilities
n/a
Cameron & Powell
Azores Golf Islands (Verdegolf)
Pilar Melo Antunes
Rui Indio e Andr
Manuel Peixoto
Information
Everyday from 9:00am to 6:00pm
Everyday from 9:00am to 6:00pm
Yes
Yes
No
With Restaurant and Snack bar
Without GPS
Manual
Standard / Premium
Resident professionals
Yes
Up to 16 years old
Tecnical
4 th , on C loop
a few
fantastic golf course , in plain nature and in great condition
Added Value: Add a 2nd day of golf and receive a discount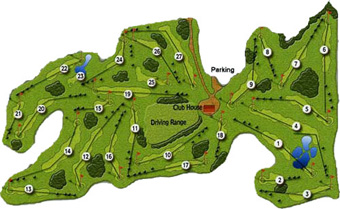 Directions:
From Ponta Delgada, head towards Capelas and, shortly before Fenais da Luz, turn right to Aflitos, following the appropriate signs.
Address:
GPS:
Lat:
Lon:
Directions from:
Ok