Description:
Aroeira II Golf Course, opened in April 2000. Its architect, Donald Steel, was careful to comply with the recommendations of the European Tour and draw a field thinking about future Opens in Portugal. With 18 long greens that surround 5 great lakes, the tees on each hole allow the course to be played by all levels of players. Host for several years of the Qualifying School of the Ladies European Tour and the various editions of the Ladies Open of Portugal.
More Info ...
Details
Rates
Course Map
Location
Add to Shopping Cart
Details
18
72
6367 m / 7004 yd
5903 m / 6493 yd
4805 m / 5286 yd
Bermuda (Tifton)
Penn Cross
Bermuda (Tifton)
Gents < 28 | Ladies < 36
Facilities
n/a
Donald Steel
Horizon s.a.
n/a
Joaquim Moura
João Cabral
Information
Everyday from 7:45am to 8:00pm
Everyday from 7:45am to 8:00pm
Yes
Yes
No
With Restaurant and Snack bar, on Aroeira I
Without GPS
Manual
Callaway
Resident professionals
Yes
Up to 18 years old
Tecnical
Added Value: Extra Free 9 holes for every 18 holes played, bookable locally and subject to availability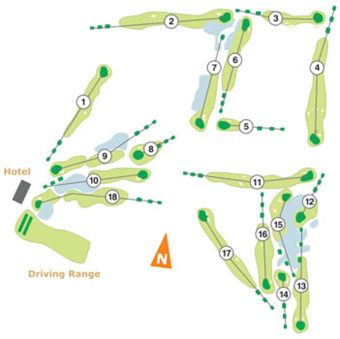 Directions:
Drive out of Lisbon to the south on the A2 (IC3) to Setúbal. Immediately after crossing the bridge take the first slip road to the right to Costa da Caparica and drive west. At the second traffic lights turn to the left and then follow the directional signs with the word 'Golfe'.
Address:
GPS:
Lat:
Lon:
Directions from:
Ok