Description:
This golf course is located within the Quinta da Deveza, near Amarante, where tradition and magnificent landscapes and scenery abound, in particular, the River Tamega and the Mountain of Marão. This is a truly mountainous course as it is 600 meters above sea level. It has four water hazards and covers an area of 40 hectares.
The first hole slopes deeply downwards and is 495 meters long and the last, on the contrary, rather shorter with 447 meters, slopes fairly steeply upwards. Hole 12 is 445 meters long and a good strong shot is necessary to get over the lake on the right hand side and attention should be paid to the left, because of the fencing that marks the out of bounds area. The green is defended by four bunkers.
The course cannot be classified as difficult although it does have excellent and fast greens, the majority of which are short in length.
More Info ...
Details
Rates
Course Map
Location
Add to Shopping Cart
Details
18
68
5030 m / 5533 yd
4604 m / 5064 yd
4089 m / 4498 yd
Lolium peren / Festucas sp / Poa pratencis
Agrostsis stolonifera / Penncross
Lolium peren / Festucas sp / Poa pratencis
Gents < n/a | Ladies < n/a
Facilities
n/a
Jorge Santana da Silva
SGA Sociedade do Golfe de Amarante, SA
Pedro Fonseca
João Silva
Eng. José Carlos Barbosa
Information
Everyday from 8:00am to 6:00pm
Everyday from 8:00am to 6:00pm
Yes
Yes
No
With Restaurant and Snack bar
Without GPS
Manual
Full Set
Resident professionals
Yes
Up to 16 years old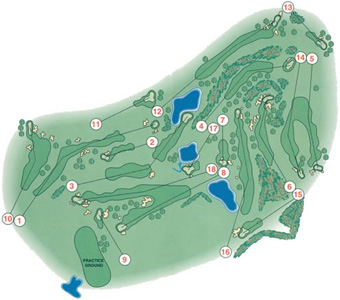 Directions:
Following Oporto by the A4, with destiny to Vila Real, leave at Amarante west where you will find the sign of Celorico de Basto following to Fregim. You will find signs of the course.
Address:
GPS:
Lat:
Lon:
Directions from:
Ok