Description:
Alto Golf Course located in Alvor, is a typical city resort golf course , with narrow fairways and small elevated greens, reflecting Sir Henry's Cotton taste for challenges to golfers of all levels . With new management since 2011, Alto golf course has received,significant improvements in is general appearance but with main incidence at the fairways and the greens . On the back nine you find what is considered the longest Par 5 in Europe, 591 mt from the men's tees, making this par 70 golf course relatively long , 5532 mt mens and 5003 m from ladies tees.
More Info ...
Details
Rates
Course Map
Location
Add to Shopping Cart
Details
18
70
5896 m / 6486 yd
5532 m / 6085 yd
5003 m / 5503 yd
Bermuda
Penn Links
Bermuda
Gents < 28 | Ladies < 36
Facilities
n/a
Sir Henry Cotton
Hotel, S.A.
Richard Marshall
Tony Bennett, Kevin Parry
Nuno Spulveda
Information
Everyday from 7:45am to 8:00pm
Everyday from 7:45am to 8:00pm
Yes
Yes
No
With Restaurant and Snack bar
Without GPS
Manual and Electric
n/a
Tony Bennett (TB), Kevin Parry (KP)
Yes
Up to 16 years old
Tecnical
Sloping fairways
Few but nothing to acute
With Pines and other varieties
If Essential
2 Ponds that come into play, plus lateral ditches
Totally
16th
Typical UK style designed course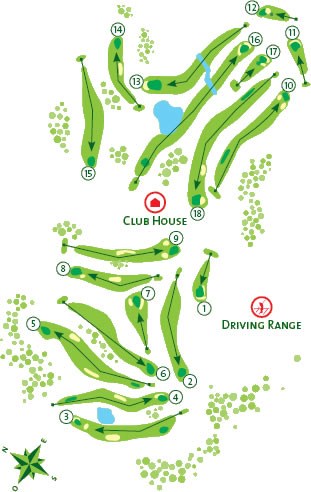 Directions:
Via Infante (A22) - Portimão Exit-5 and take road south into the town. After the third roundabout keep to the left hand side and go down and through a short tunnel. Keep straight on and about 1 km later road curves to the left and feeds into another road. Keep straight and on the third roundabout with fountain turn right into a dual carriageway going west. At the next roundabout turn to the right and the course entrance is about 0.4 kms on the right side off a smaller roundabout.
Address:
GPS:
Lat:
Lon:
Directions from:
Ok