Description:
The Campo de Golf Almerimar has 27-holes on a surface of approx. 802.000 m², embedded into a beautiful landscape delicately by its singular beauty with palms and lakes, with the marvellous Mediterranean climate of Andalusia. As the only golf course with 27-holes in the province of Almeria it offers enormous play possibilities and challenges. The golf course has a generous practise area with chipping green with 3 exercise holes, exercise shelters, and a putting green with 9 exercise holes.Lovers of this sport will enjoy the wide fairways of the Golf Course. The Campo de Golf Almerimar offers lots of possibilities for golf players of each level. In addition, it demands also from experienced golfers a high measure of concentration, it can also be mastered from beginners quite well. Obstacles - like the water surfaces and the skilfully placed bunkers - can be well played. Bunkers and small ponds very well guard the greens and the fairways seem to be like carpets.
More Info ...
Details
Rates
Course Map
Location
Add to Shopping Cart
Details
27
108
6296m
6148m
5429m
n/a
n/a
n/a
Gents < 36 | Ladies < 36
Facilities
n/a
Rob Kirby & Gary Player
n/a
Juan Francisco Escobosa Medina
Juan Parrón Cruz
n/a
Information
n/a
n/a
No
No
No
n/a
n/a
n/a
n/a
n/a
No
n/a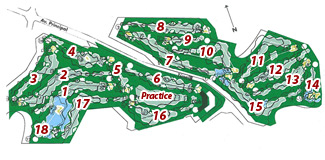 Directions:
30km from Almeria Almerimar is located in an exceptional place in the South-East of Andalusia in the province of Almería (Spain). The Hotel is located within the exclusive residential zone Almerimar. The nearest airport is Almeria Airport (LEI) just 45 Km Away (35 min.). Malaga Airport (AGP) is 180 Km away (2 hrs.). Direct and easy access through the Mediterranean Motorway (A7 / E15) exit 409.
Address: Golf Almerimar, Avda. Julián Laguna, 1, Urb. Almerimar
GPS:
Lat:
Lon:
Directions from:
Ok