Description:
Álamos Golf Course in the Algarve, is a beautiful par 71 golf course located between Portimão and Monchique, and definitely one of the most enjoyable golf courses in the Algarve for your holidays. This 18 hole golf course provides a very pleasant game of golf, combined with a nice, relaxing scenic experience. Álamos golf course , offers wide, hilly greens, with quite the wavy fairway, it is surrounded by a nice forest, filled with the local flora, orchids, and even a vineyard! You often see flocks of storks return to their nests before the sunset. They offer a panoply of green fees and Tee Times to suit any player.
More Info ...
Details
Rates
Course Map
Location
Add to Shopping Cart
Details
18
71
5710 m / 6281 yd
5105 m / 5616 yd
4348 m / 4783 yd
Bermuda Tifton 419
Penn A4
Bermuda Tifton 419
Gents < 28 | Ladies < 36
Facilities
n/a
Russell Talley(European Golf Design)
Imoreguengo, Desevolvimento e Promoção Imobiliária, SA
Jorge Papa
John Seymour
n/a
Information
Everyday from 7:00am to 8:00pm
Everyday from 7:00am to 8:00pm
Yes
Yes
Yes
With Restaurant and Pro shop
Without GPS
Manual & Electric
Full Set
Resident professionals
Yes
Up to 16 years old
Tecnical
Wind conditions affect club selection
Recommended due to back 9
Stream running through course, well defined
Hilly terrain, with rolling fairways
14th par5 stroke 2
Quiet inland course, great experience
Added Value: 1 Free in 12 Players (Only in 18 Holes item)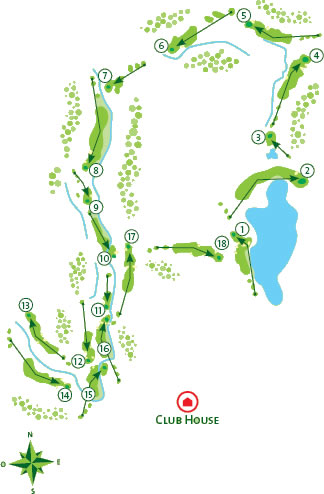 Directions:
Take the road to the north from Portimão in the direction of Monchique and Silves and under the new A22 Motorway. From the access roundabout of the A22 follow the signs to Monchique and Silves. After 1.1 km take the well signposted left turn and drive a further 1.2 km to the west where you take a right turn into the Morgado Estate. Follow the road to the Club House. (11.8 kilometers in total).
Address:
GPS:
Lat:
Lon:
Directions from:
Ok